A Virtual Tour of MakerKids
Considering signing up and curious about what our space looks like? Check out this virtual tour.
When you arrive at our location in Bloor West Village (at Bloor and Jane), you will see our sign.
"Hi! Welcome to MakerKids." This is our check-in area and waiting room.
Here's some of the cool stuff we have at MakerKids. Check out our six 3D printers! (pictured middle left)
Welcome to our makerspace for kids. As you can see, we have lots of cool tools and materials for kids to play with. The wall shows a sampling of them for inspiration, and we have tons more cool stuff in our storage closet (such as Arduinos) that we bring out for programs. Check out our skylights on the ceiling!
Our "inspiration station" includes our littleBits Pro Library, and other cool things to play with.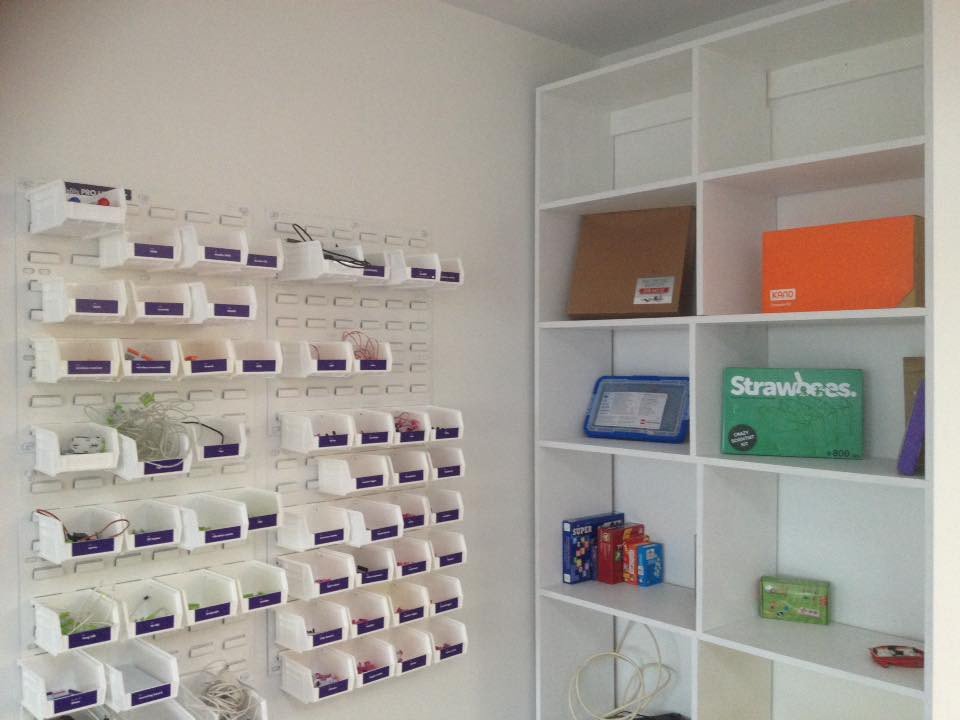 Here is a picture of our second classroom:
Come make something with us! Here's a 3D printed wrench and a robotic creation that were made at MakerKids.
More Details About Our Space: MakerKids is located in an amazing upper level space in Bloor West Village (2451 Bloor St W, at Jane and Bloor — just south of Jane subway station), a neighbourhood filled with great shops, cafes and other kids' activities to explore when your family comes to visit us. Our location has skylights providing lots of natural light, great parking options, and lots of space. This space is kid and parent-approved: we invited some of our regular kids and families to come with us to 'review' the space before committing to it — they loved it! It was previously occupied by ArtWorks, an art school for kids, who have since moved to a slightly bigger space in the neighbourhood. We are a nut-free location — please do not bring nuts to our space.
What's Nearby: Wondering where to hang out while your child is at MakerKids? Bloor West Village has lots of options. Why not try Wibke's Espresso bar, which is right next to us and home of "Probably the best latte in the world". You can also find yoga, TD, a movie theatre, a gym, great restaurants and patios, and lots of other great childrens' activities (Kumon, dance, theatre, art, etc) within walking distance. A few blocks away, there's a No Frills, Shoppers Drug Mart, and the opportunity to take a stroll beside the Humber River or play tennis.
Getting Here: The space is closer to the subway, which is great for families who are sending kids on their own; they can simply cross the street from the subway station and they will arrive at MakerKids! There is also convenient access from the Gardiner Expressway (exit at Kingsway and just go north on Kingsway). The address is 2451 Bloor St W and it is right above a Pizza Pizza — great for birthday parties! The closest intersection is Jane and Bloor, and we are just south of Jane subway station.
Getting here via Public Transit: Get off at Jane station (on the Bloor line, west of Runnymede station). There is only one exit — to Jane street. Use the stairs or escalator. When you exit, look left and you will see MakerKids! Walk slightly south along Jane, and cross Bloor at the lights when the lights signal that you are allowed to cross. You will arrive at MakerKids!
Getting here via Driving:
From North: From the 401, take the Jane St exit and follow Jane St to Bloor St W.
From South: From Gardiner Expy, take S Kingsway exit and follow S Kingsway to Bloor St W. Then go right on Bloor.
Parking: In the diagram above, the yellow part indicates street parking and the green P's indicate lots. Find more info about the closest parking spots here or here.
Learn more about us: www.makerkids.com