71% of the teachers believe that computer science is just as important as other required courses, if not more. Between 2020-2030, STEM jobs are expected to grow at a whopping pace of 10.5%. That's how important STEM classes are in this day and age. 
And yet, the majority of the school curriculums do not prioritize STEM education.
But worry not – if you're one of the parents who realize the importance STEM education holds and are looking for ways to enhance your child's STEM learning, this article is for you.
We have handpicked three platforms that make STEM learning fun and interactive for your kids, and I'll be talking about them in detail. 
We'll be comparing the platforms based on the programs they offer, their price range, and other factors.
Let's dive in to know more about the 3 best online STEM classes for kids!
Table of Contents
TLDR
STEM is a learning approach that combines the disciplines of science, technology, engineering, and mathematics to help students identify and solve problems analytically.

MakerKids, Exceed Robotics, and BYJU's Future School are three incredibly helpful platforms to help STEM learning for kids.

MakerKids

is the only platform to provide learning in three modules:

Coding

,

Minecraft

, and

Robotics

.

Exceed Robotics focuses on different aspects of coding and robotics and teaches children a variety of coding languages. It is best suited for kids who already have prior coding knowledge.

With one-on-one sessions with instructors, Byju's curriculum offers the scope of learning through games and interactive sessions. 

With versatile programs, an enriched curriculum, and social skills-building opportunities, even for special kids, MakerKids unanimously takes the lead. 
What Is STEM?
STEM is a learning approach that combines four disciplines: science, technology, engineering, and mathematics. STEM classes tutor kids on using these disciplines to identify and solve problems.
STEM classes combine education with exciting activities, so children get hands-on education instead of mere textbook knowledge. Moreover, STEM education can help children become great problem solvers. Enroll your kids in a STEM program if you want them to have a head start in machine learning, coding, and other skills.
If you haven't realized it by now, STEM classes are great for your child's growth. So let us get into the reviews and find the best STEM program for your kid. 
Why Is STEM Important for the Future?
STEM education develops creative and unconventional thinking among children. There will be challenges in the future that will require sustainable solutions. STEM learning provides the required skills to come up with these solutions. 
STEM education is the first step in turning today's children into future innovators. Real-world applications of knowledge will become more important as the world becomes more technologically advanced. 
STEM classes will teach children both the theoretical and practical parts of computer science and math. As a result, the kids will become qualified for future jobs.
Best Online STEM Classes for Kids #1: MakerKids
While I try to stay unbiased, just putting it out there that MakerKids started the STEM education as pioneers, and we are still the best ones out there. 
Quick Facts
Free Trial details:

First class is free

Recommended age range:

6-13

Location of the company:

Toronto, Canada

Live or pre-recorded class:

Live 1-1 and groups
Features
Better mentors make excellent students, and MakerKids does not compromise the quality of its teachers. So, we use a 7-step recruitment process and hires only the best for your kids.
Unlike 90% of the schools, MakerKids teaches computational thinking to children. We follow a versatile curriculum to provide children with technical know-how and prepare them for the future.
As a result, your kids will learn critical thinking, problem-solving, teamwork, and other important skills in every professional field. 
Children with ADHD, Asperger's syndrome, and other conditions can also enroll in these programs. MakerKids takes pride in the unique talents of your kids and the versatility of its classes, making it one of the best online STEM classes out there. 
Best For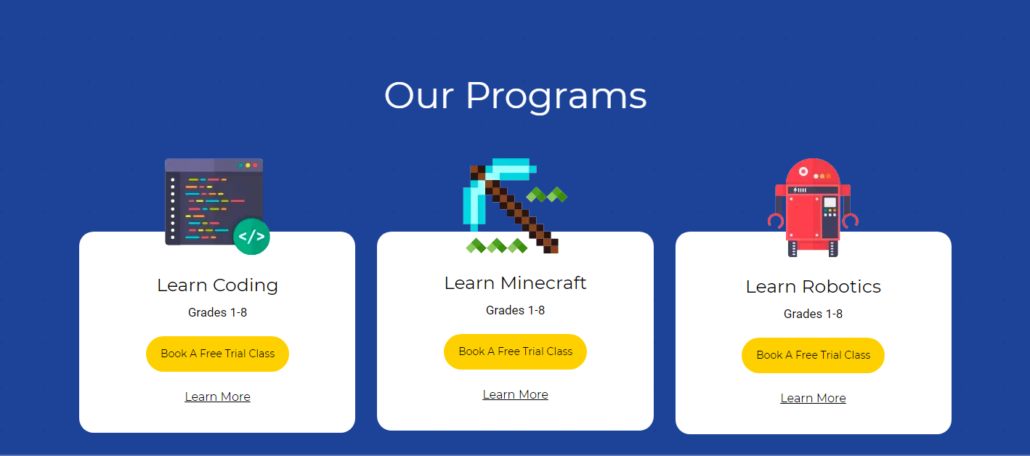 It is the only platform to provide learning in three modules: Coding, Minecraft, and Robotics. To add to its credit, MakerKids does not burden kids with theoretical topics. Instead, it teaches real-world applications to children, such as developing games, software, and others.
So if your kids are showing interest in science or coding, MakerKids can help them pursue this interest. 
We also host STEM, IDEA INCUBATOR, Coding, and other camps for kids. It's like a summer camp experience that your kids can enroll in to understand whether they are interested in STEM. 
In addition, this platform is suitable for children who want to work on long-term projects. For instance, assume your kid is interested in building a program using code. Your child can meet similar-minded kids through MakerKids and work on their project together.
MakerKids does not need your child to have any experience or tools, unlike some other platforms. All they need is the will to learn, and the instructors will take care of the rest. 
Pros
Teaches social and computational skills to children

Offers make-up classes. Parents actually told us we have the best customer service.

Price is less compared to that of its competition

Prioritizes the mental health of kids while teaching 

Teachers are trained by psychologists to facilitate the kids well

Teachers are experts in their areas and are empathetic toward the children

Live classes come at an affordable price

There is a 30-day money-back guarantee

As class sizes are small, teachers can focus better on each student

Offers versatile programs, camps, and PA days for kids
Cons
Does not provide on-demand video courses. It is live and cohort-based.

It focuses on teaching coding and robotics. But other STEM courses can be included, like Maths.  
Price
Weekly 1-hour class:

$129/month 

Weekly 2-hour class:

$199/month
Both of these plans offer flexibility in terms of month-to-month payments. The student-to-instructor ratio will be 5:1 for each of them.
Weekly 1-hour private class:

$249/month


Reviews
There are parents like you who have tried MakerKids for their children. In this section, we will look into some of their experiences. 
Best Online STEM Classes for Kids #2: Exceed Robotics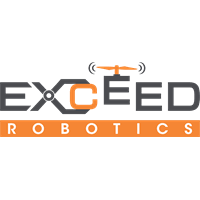 Exceed Robotics is a Canada-based company that offers the ideal environment for children interested in robotics and coding. This is the perfect place for parents who want their kids to develop innovation skills early on. 
Quick Facts
Free Trial details:

First class is free

Recommended age range:

7-17 years

Location of the company:

Mississauga, Richmond Hill, and Thornhill in Canada

Live or pre-recorded class:

In-person and virtual classes
Features
Exceed Robotics focuses on different aspects of coding and robotics and teaches children a variety of coding languages. Kids can pick a language and start learning by engaging in various challenges.
It provides a fun environment for kids with trained instructors. These instructors will encourage your children to learn through discoveries and explorations. Exceed Robotics looks beyond the general curriculum and indulges children in interactive learning. 
The platform also comes up with interactive content and material for kids. Although the language may be too mature for children, the content is informative and compelling. 
Best For
This platform is for kids who already have talents in coding or robotics. Some children have already written their first code or played with wires. Exceed Robotics will help polish the skills of these children.
Kids with experience in robotics or coding in different languages will do better than those without experience. But children don't need experience, and even beginners can do well here. 
Exceed Robotics also has a school outreach program. So if your child cannot afford to study after after-school hours, they can take classes in school. However, this feature is only available in a few schools in Canada.
Pros
Offers summer camps and school outreach programs

Teaching children through exciting projects that use 21st-century skills

Parents do not have to buy their children anything, robotic platforms or software  before the classes

Offers full payment refund before and until the fourth session of any term 
Cons
Class sizes are a bit big

Focuses more on innovative skills but not much on social skills

Provides only six seats in make-up classes on a first-come-first-serve basis
Price
Standard Weekly 1-hour class:

$180/month

Python and Robotics learning:

$165/month
Break camps and summer camps:

$450 for a week
Reviews
Let's hear it from people, who have actually tried Exceed Robotics. 
Best Online STEM Classes for Kids #3: BYJU's Future School
BYJU's Future School is an online platform available in seven countries: the UK, the US, Mexico, Australia, Indonesia, Canada, and Brazil. It was originally founded in Bangalore, India. 
Quick Facts
Free Trial details:

First class is free

Recommended age range:

6-14

Location of the company:

Bangalore, India

Live or pre-recorded class:

Live 1-1 classes
Features
BYJU's Future School has over a million students worldwide and over 11,000 instructors. These instructors are selected using an industry-leading 4-step hiring process. 
Students get one-on-one sessions with instructors. The curriculum provides the scope of learning through games and interactive sessions. Also, parents get progress reports of their children regularly. 
You can choose one of five levels of curriculum for your kids:
Beginner:

Grade 1

Intermediate:

Grade 2-3

Advanced:

Grade 4-6

Professional:

Grade 7-9

Applied Tech:

Grade 10+
Best For
You can place your trust in BYJU's Future School if you want your kid to grow up to be a problem solver, a creative thinker, and a confident creator. Every child loves to play games. BYJU's will make them fall in love with making games.
Also, BYJU's Future School allows its students to take part in exclusive events. If your kids are competitive and like to work under pressure, these competitions will help them grow.
You may be concerned about your child's online safety as a parent. If that is so, you do not need to worry anymore. The platform follows guidelines to ensure the privacy and security of your children. Your child will remain safe during the 1-1 classes. 
Pros
1-1 sessions with the teacher are more interactive, and classes are more effective

Provides the opportunity to participate in competitions, including the Silicon Valley Challenge

Students learn by building apps, websites, and games

Has a large and diverse online community
Cons
Does not provide in-person classes

Students have to spend much time on their devices, and the internet

Children might find the high-end technological infrastructure complicated to use

Advanced programs can be too competitive for students to have fun and enjoy the lessons

The platform continues to spam parents with marketing emails to the extent that people become frustrated

We've heard from other parents that sometimes different teachers' accents are confusing during the lecture
Price
There are three programs for each of the five levels of the curriculum.
Introduction to Coding:

$249 for 8 classes

App Developer Certificate:

$1,399 for 48 classes

Advance Coding with Space Tech:

$3,999 for 144 classes
Reviews
Looking at some comments from users of BYJU's Future School can provide a clearer picture of the platform. 
Best Online STEM Classes for Kids: What Kind of Classes are Considered Best?
Parents often look for STEM classes that can provide a supportive learning environment. Classes are considered best when students can interact with teachers one-on-one.
Also, STEM classes that provide incremental goals to children are considered to be more productive. MakerKids excels in ensuring everything in these aspects and then some more. 
Final Thoughts
Now that you know better about the best online STEM classes out there, know that these three platforms have done wonders regarding technological infrastructure. They have successfully made classes more interactive and engaging. These unconventional modes of learning have proven to be better than most schools.
All three programs are exceptional, but of course, I do believe MakerKids takes the lead. 
Firstly, no other platforms provide such versatile courses other than MakerKids. It provides lessons on Coding, Minecraft, and Robotics. 
Parents can make good deals by paying little in exchange for so much. MakerKids also shows versatility in arranging boot camps and summer camps. 
Secondly, the curriculum of MakerKids is enriched so that children develop social and innovative skills. All the lessons are fun exercises that develop team-building skills among children. 
Most platforms are focused on the technological aspect of STEM education. But MakerKids goes beyond and helps your child learn what it is like to be responsible at an early age. 
Finally, let's talk about the best features of MakerKids. It enrolls kids with ADHD and similar conditions. Children with such conditions possess unique talents. MakerKids has a curriculum to integrate their talents with its courses. It provides a sense of acknowledgment to these children and their parents.

Comparison Table
Check out the following table if you do not have the time to read the article. It will give you a pretty good idea of the programs and help you find the right one for your child.
| | | | |
| --- | --- | --- | --- |
| Items | MakerKids | Exceed Robotics | BYJU's Future School |
| Courses | Coding, Minecraft, and Robotics | Coding and Robotics | Robotics |
| One Thing They Are Great At | Focusing on special kids with Mental Health | Providing school outreach programs | Giving the opportunity to take part in exclusive competitions |
| Modes of Learning | Live 1-1 and groups | In-person and virtual  | Live 1-1  |
| Student Age | 6-13 | 7-17 | 6-14 |
| Student to Instructor Ratio | 5:1 | 6:1 | 1:1 |
| Price | Moderate | High | Moderate |
| Links | MakerKids | Exceed Robotics | BYJU's Future School |