Do you want your kids to learn about robotics? If your child even enjoys building things or fidgeting with LEGO sets, robotic classes for your kids are a great place to start out preparing them for the future.
Robotics captivates kids. For your child, robotic classes are going to be some fun play. At the same time, they can explore complicated subjects like science, engineering, mathematics, coding, etc. As a result, they get to have fun and learn simultaneously. 
This article will review the 3 best robotic classes for kids to help you decide which is the best for your kids. Let's dive in!
Table of Contents
TL; DR
MakerKids, Tekkie Uni, and Skyfi Labs – all three are immensely friendly and educative platforms to help your kids get started and skilled in robotics.

With a 1:1 private session with highly trained teachers, MakerKids is a unique award-winning curriculum built by the Singularity University program alums at NASA.

With weekly sessions on projects, exercises, and queries, Tekkie Uni puts a lot of importance on hands-on experience.

Skyfi Lab's user-friendly policies allow children to schedule their classes as flexibly as possible. 

With a polished program, enriched and unique curriculum, highly skilled teachers, social skill-building opportunities, and inclusion to even special kids, MakerKids takes the lead.
What is Robotics?
Robotics is an interdisciplinary domain studying robots, including the 21st-century's necessary subjects like engineering, technology, and science intercepting. One needs a fundamental understanding of engineering, technology, and programming to succeed in robotics.
It can appear too complicated, but robotics is no longer a career reserved only for the most brilliant scientists. 
Every year, more institutions and even elementary schools incorporate robotics as a scientific course. Even kids as young as five can start developing skills to help them in their robotics journey. So introducing your kid to robotics and coding at an early age can benefit their career.
Robotic Classes for Your Kids
In robotic classes, kids learn to construct electronic masterpieces and program a computerized "robot brain" to create extraordinary machines using online robotic simulator technology.
They can provide and receive feedback on projects as they seek to enhance their creations. So robotic classes can be one of the best ways to reinvest in your child's future.
There are many robotic classes for children. I've gone through most of them and made a list of the best three robotic classes to narrow it down for you. 
Let's get right into it!
Best Robotic Classes for Kids #1: MakerKids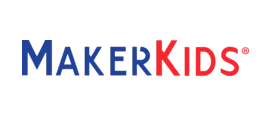 I've made my best effort to be objective in the review. But we at MakerKids, the pioneers of STEM education, still remain the best option.
Quick Facts
Free Trial details:

First class is free

Recommended age range:

6 – 13

Where the company is based

: Toronto, Canada

Mode of learning:

Online Live – 1:1, groups up to 5, and in-person classes
Features
Arguably one of the best robotic classes for kids, MakerKids is uncompromising in the case of the quality of its teachers. We implement a 7-step vetting procedure to offer the best skilled and fun instructors. The instructors undergo required background checks, reference checks, and rigorous technological training. In fact, less than 1% of the applicants make it as our instructors.
Online live or in-person robotic classes are available for MakerKids' robotics course. Instruction is available in either 1:1 private or group classes with a maximum of 5 students per class. Classes are available every day of the week with 5+ class times for each program.
We have a unique award-winning curriculum built by the Singularity University program alums at NASA. We teach kids computation thinking, an essential skill that 90% of schools don't teach.
Because of this, your kids will flourish in creativity, technical skills, teamwork, problem-solving, teamwork, and other necessary skills in every professional field. Your kids will also learn everything required to get started with robotics. 

MakerKids is inclusive to all kinds of kids, such as kids with ADHD, Asperger's syndrome, etc. It celebrates your child's unique abilities requiring intellectual engagement and stimulation.
You can register for our intro class, that too for free. It will give you a great overview and assist your child to choose among the programs. You will be surprised at how fast your child becomes self-sufficient. All you have to do is to get them started.
MakerKids's goal is to empower kids with skills that no other education does. We want kids to believe in themselves and know they can do anything.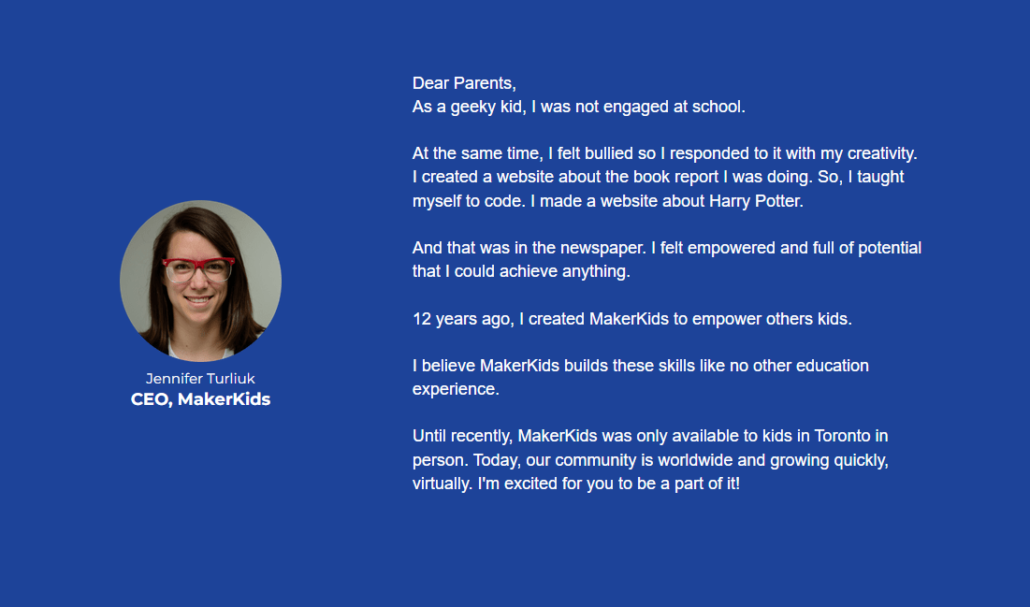 Best for
MakerKids is one of the few platforms that teaches real-life applications and does not bore children with theoretical lessons. It is a well-rounded package suitable for any curious child.
So, if students are interested in robotics from watching a movie or playing a game, MakerKids can help them explore it. Your children can sign up for it and have an experience similar to one at a summer camp to see whether they are interested in Robotics.
This platform is appropriate for kids who wish to work on lengthy projects. Let's say your child is enthusiastic about writing computer programs. MakerKids allows your child to collaborate on projects with other children with similar interests.
MakerKids doesn't require children to have any skills or equipment. The teachers will handle the rest; all students need to do is have the will to study.

Robotic Classes Offered
Beginner Robotics

(Grade 3-5 & 6-8): Students are taught everything they need to know to code their robotics projects.

No robotics experience is required.

You can also book a free class to try out the class to see if it is a good fit for your kid.
Intermediate Robotics

(Grade 3-5 & 6-8): Students are taught component after component – what they do, how they work – and then presented with projects they can utilize.

Some prior robotics experience is required.

If your kid already has some robotics experience, you should book a free class and check it out yourself.
Your kids can start at any level at any time. They will advance to the next level once they have finished all the activities at their current level.
MakerKids Pros
Skilled and fun instructors to learn from

Teachers, trained by psychologists, prioritize the mental health of kids while teaching

Price is less compared to that of its competition

A 100% money-back guarantee policy

Flexibility in scheduling

Offers make-up classes. Parents review the customer service as very responsive and communicative

1-1 Private classes allow kids to thrive by having classes tailored to their needs

Inclusive to all kinds of children

Small class sizes allow kids to interact with each other and make friends

Equips students with necessary social skills and improved confidence besides robotics

Offers in-person classes in the Greater Toronto Area (Ontario, Canada)

Extremely affordable for live classes

Offers versatile programs, camps, and PA days for kids

Professional, English-language proficient, and patient staff based in Canada are found
MarketKids Cons
Does not provide on-demand video courses

In-person classes are unavailable outside Greater Toronto Area (Ontario, Canada)
Price 
Weekly 1-hour:

$129 / month ($32.25 / hour of class)

Weekly 2-hour:

$199 / month ($24.875 / hour of class)
Both of these plans allow flexible monthly payments. The student-to-instructor ratio for each student will be 5:1.
Private Classes:

Weekly 1-hour:

$249 / month ($62.25 / hour of class)
Daily 2-hour:

$249/ 5-Day Camp. ($24.90 / hour)

Daily 2-hour:

$199/ 4-Day Camp ($24.875 / hour)

2-hour:

$49/ PA Day ($24.50 / hour)
$250 for 2 hours virtual party ($125 / hour)

You can also choose your custom program, camp, or party. Additionally, you can pick a time that will work for you and your group's quality learning. 

Reviews
Parents just like you have given MakerKids a go for their kids. Here are some of their reviews: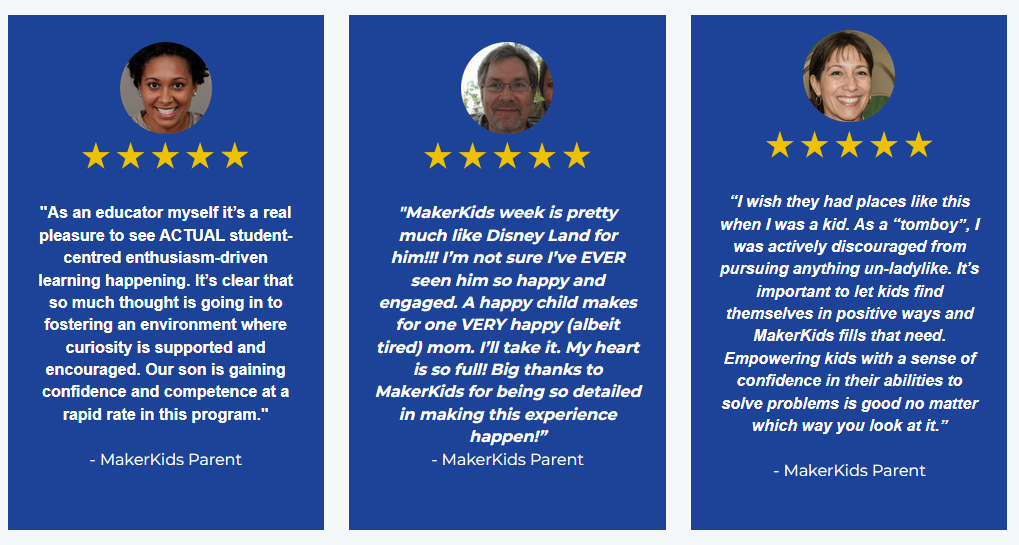 Best Robotic Classes for Kids #2: Tekkie Uni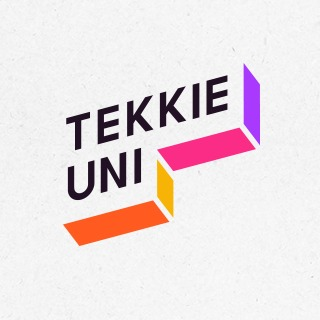 Tekkie Uni is an international company teaching necessary skills to children through enjoyable and enhanced learning methods.
Quick Facts
Trial Period details:

A trial period of 14 days costs $41 (Fully refundable)

Recommended age range:

10 – 13

Where the company is based:

Ramat Gan, Israel

Mode of learning:

Online live classes
Features
Tekkie Uni helps kids learn to code virtual 3D Robots through an effective online learning environment. It offers one of the most efficient methods of teaching robotics.
Tekkie Uni classes are available in live-online sessions with full real-time interaction. The teachers are experienced in robotics for kids. Additionally, there are weekly live Q&A sessions that help the students clear any doubts they might have with the help of their teachers.
Moreover, students learn by participating and working on interest-based projects, which creates a fun class dynamic.
Best for
Tekkie Uni solely aims to teach kids robotics from the beginner stage. Your children don't need to have any robotics knowledge or experience beforehand. They just have to be fascinated enough about robotics. 
Tekkie Uni puts a lot of importance on hands-on experience. Its weekly sessions assist students with projects, exercises, and queries. These sessions and all the classes are automatically recorded and available for students throughout the course. So this is a great option for parents who want more emphasis on the practical side of lessons.

Robotic Classes Offered
Robotics (Level: Beginner): This course is aimed at kids aged 10-13. Students are taught to expand their skills while creating fun projects and handling gradual challenges. Each weekly class is 2 hours long, with 1 hour of lessons and 1 hour of practice. No robotics experience is required. 
Tekkie Uni Pros
Video conferences allow small groups of children to get to know each other and their teacher

Weekly live Q/A sessions with the teacher enable the students to get their queries resolved

Teaches the kids about the uses of variables and sensors

Automatically records the progress of kids. Parents can view the records and share their feedback
Tekkie Uni Cons
A long course period may be bothersome as it may get difficult for kids to attend regularly for nine months

The course might not always be available

Customer service is not very responsive

No in-person classes are available

No 1:1 live classes are available

No classes are available for kids under the age of 10
Price 
The total price of the beginner course is $815 ($12.75/hour) for nine months of lessons. 
Course registration fee: $41 (Fully refundable and includes two trial lessons)

Monthly payment of $86 for nine months (Total of 32 classes)
Review 
Tekkie Uni has a lot of good feedback from kids and their parents. Let's look at a few of them.


Best Robotic Classes for Kids #3: Skyfi Labs

Skyfi Labs aims to put the fun back into learning to make students love technology and dream big for their future. It helps the students experience the joy of building things.
Quick Facts
Trial Period details

: Free trial is available

Recommended age range:

8 – 14+

Where the company is based:

Bengaluru, India

Mode of learning:

1:1 or group online live and pre-recorded classes
Features
Skyfi Labs has a community of over 400,00+ students across 68 countries. Its instruction is available in 1:1 online live sessions, groups of up to 5, and pre-recorded classes. 
Skyfi Labs ships students' kits and software tools very quickly to ensure a smooth experience for the learners. Moreover, students can interact with expert instructors and clarify doubts in real-time. As a result, their program enhances students' creativity, problem-solving, and confidence.
Best for
Skyfi Labs is diligent in making students enjoy the classes and developing curiosity at a young age. 
Thanks to Skyfi Lab's user-friendly policies, you'll have flexibility in scheduling the classes according to your comfort. Besides, the teachers are very communicative in assisting you and your kids. So Skyfi Labs is a good option for parents with a tight schedule.
Robotic Classes Offered
Robotics Starter

(Age 8+): Gets your kid started

Robotics Explorer

(Age 10+): Gets your kid to develop expertise

Robotics Champion

  (Age 14+): Gets your kid to master skills
No robotics experience is required. 
Price
Skyfi Lab offers three robotics courses- Starter, Explorer, and Champion. Each of them costs $349 and consists of 1:1 online live classes.
Reviews
Let's look at some reviews from users of Skyfi Labs to help us get a better idea of the platform.

Skyfi Labs Pros
Passionate, patient, and available teachers

High-quality and student-friendly pre-recorded classes

1:1 learning can help students learn faster

Scheduling is flexible, and attending more classes decreases the price/class

Vast online community
Skyfi Labs Cons
Refund guarantees can be complicated to use

Customer service is not very responsive

No in-person options

Learning interfaces might seem unintuitive to some students

No progress reports of the students
Final Words
So, now you know the best robotic classes for kids out there!
Kids can have a wonderful time taking robotic classes. These three platforms make robotic classes entertaining and instructive, opening the door to a fantastic future profession.
There are many options available, and each has its advantages and disadvantages. Each option has a distinct pricing point and quality level. But, of course, MakerKids takes the lead for me. 
MakerKids provides your children with a unique and well-thought curriculum. The curriculum goes beyond teaching only robotics to instill team-building skills among children. Unlike most other platforms, it focuses on more than just the technological aspects.
Additionally, MakerKids enrolls kids with special needs, like kids with ADHD and similar conditions. It has a curriculum that gives both children and parents a feeling of accomplishment. As a result, it can effectively bring out kids' latent talent through its well-crafted courses.
Comparison Table
If you don't have time to read the article, you can glance at the following table. It'll give you a good idea of the platforms and help you find the optimum one for your kids.
Items

MakerKids
Tekkie Uni
Skyfi Labs

Trial Details:

Free first class

2-week trial period – with a registration fee

Free trial period

Age Range 

6 – 13

10 – 13

8 – 14+

Location

Toronto, Canada

Ramat Gan, Israel

Bengaluru, India

Modes of Learning

Online Live (1:1 or Groups up to 5), in-person classes

Online Live classes

Online Live (1:1 or Groups)

Programs

Beginner and Intermediate

Beginner

Robotics Starter, Explorer, Champion

Price 

Moderate

High

Moderate

Customer

Service

Very responsive

Not very responsive 

Not very responsive

Teaches 

Computation Thinking

Yes

No

No

Links

MakerKids

Tekkie Uni

Skyfi Labs