According to recent statistics, Scratch coding has reported over 92 million users as of June 2022. Around 107 million projects on Scratch platforms have happened within the same timeline. 
Here's the thing.
Coding is the future and present. And in the digital world, it will soon become the most important skill. From problem-solving to communicating ideas, learning to code builds a skillset that goes a long way.
The right time to prepare your kids is now.
Consequently, Scratch has become a preferred language for coding. So if you want to ensure your child isn't missing out on important life skills, you need to find the best scratch coding classes for kids.
Luckily for you, though, we've already done the research.
This article will introduce you to the three best Scratch coding classes that will make your children's education more fun and exciting. You will get a comparison between these platforms' price ranges, features, and other factors. 
If you don't have time to read this article, you can check our comparison table with all the best programs at the bottom of this article.
Table of Contents
TLDR
Scratch is a high-level block-based programming language generally targeted to teach kids.

MakerKids, Code Spark, and Kodable are three helpful platforms to improve kids' coding education. 

MakerKids, the pioneer of STEM education, has built an effective and interactive curriculum for kids.

MakerKids has a "Coding for Kids" program that helps children stay ahead of their peers by teaching them real-life, hands-on skills.

Code Spark uses drag-and-drop programming to reinforce coding concepts among children.

Kodable allows kids to create and customize their characters and challenges kids to use its spin on drag-and-drop programming.

With specialized teachers, social-skills learning opportunities, and an enriched curriculum for special kids, MakerKids is the undisputed winner.
What is Scratch Coding?
Scratch is a block-based visual programming language that works as an educational tool for children. The target audience of Scratch is mostly 8-16-year-olds. Scratchers, users of this language, can create projects using a block-like interface or drag-and-drop programming.
Schools, colleges, and public knowledge institutions use Scratch to teach students the basics of coding. Scratch coding classes train children to solve real-world problems through fun games, projects, and challenges. 
Kids learn character development, storyboarding, basic coding, and other skills in these classes. These coding skills can help them understand how machines or artificial intelligence work. So, kids not only learn how to code but also how to shape their future. 
Why is Scratch Coding Important for Your Kid's Future?
Scratch is helpful for kids to develop their knowledge because it is not complex like traditional programming languages. It allows kids to think out of the box and express their ideas. 
Also, children develop logical thinking and analytical skills. They face different issues and try to solve them. So, they get to learn problem-solving methodologies naturally. Since scratch is more visually appealing, kids never lose interest and find it enjoyable to work. 
One problem that children face while learning to code is the number of resources. There are a lot of complex books, tutorials, and guides that kids find difficult to grasp. Fortunately, Scratch was made keeping kids in mind. 
Coding facilitates STEM learning, provides future skills to kids, and increases job prospects. You will be amazed that around 16,000 new coding and programming jobs will open each year. 
So now you have the reasons to teach your kids coding. Let's move on to look for the best scratch coding classes for kids! 
Best Scratch Coding Classes for Kids #1: MakerKids
Arguably one of the best scratch coding classes for kids, MakerKids was the first to prioritize STEM learning for kids. We believe we're still the best in the business. Although we will stay unbiased, we just wanted you to know that MakerKids started the trend. 
Quick Facts
Free trial details:

First class is free

Age recommendation:

6-13

Company location:

Toronto, Canada

The module of class:

Groups and Live 1-1
Key Features
Get to know some of MakerKids' unique features.
A Complete Curriculum
With MakerKids, your kids will learn character development, storyboarding, beta testing, animation, and environment design. They will learn to solve problems by building games and websites. Since MakerKids offers its services in three levels, Beginner, Intermediate, and Advanced, your kids will learn everything from scratch. 
Prepare Kids for the Future
We teach kids 21st-century skills like leadership, resilience, creativity, confidence, and others. Kids will learn technical skills from NASA-trained teachers, engineers, and entrepreneurs. Also, we are the only platform to focus on your child's social skills alongside their coding knowledge.
Program for Special Kids
Our program is suitable for kids with ADHD, Asperger's syndrome, and other special cases. They can learn and showcase their unique capabilities with MakerKids. 
Best For
We have three coding programs for your kids, Beginner, Intermediary, and Advanced. So, you can choose any program based on your kid's capabilities. Some prior experience is necessary for the intermediary and advanced, but nothing difficult.
If your child requires special attention, we have private one-on-one classes for students. So kids can ask questions and clear doubts without any hesitation.
Children learn to build their own games by learning the basic skills first. They also learn to develop a character, a story, and other steps. While doing so, your kids learn to be resilient and creative. 
If you are worried about your child's safety in classes, rest assured because MakerKids has a team of experts. We hire our teachers using a 7-step recruitment process so that only the best instructors are teaching your kids. Only 1% of thousands of applicants make it through the selection process because we prioritize quality.
Your kids will learn coding by working on long-term projects. They will find similar-minded kids through MakerKids and work on their projects as partners. So your kid gets extra help and learns how to be a team player. 
Also, you do not need to buy any tools for the classes. Just register for the classes, and we will take care of everything. 
How Does the Makerkids Virtual Coding Program Work?
We will send a kid to your home when you subscribe to the class. This kit will connect with the software on your laptop or desktop, and virtual classes will feel like almost in-person classes. Your kids will learn and build at the same time. 
Pros
We have teachers trained by psychologists to help your kid's education.

We prioritize computational and social skills alongside coding.

Kids can avail of make-up classes. Parents are satisfied with our service.

Our instructors are professionals and can handle classes with patience.

Teachers can focus on every student as class sizes are small.

We focus on the mental well-being of our students.

Our program is more affordable than those of other platforms.

We provide PA days,

virtual camps

, and virtual birthday parties.

We make children future-proof by providing 21st-century skills. 

We provide the best tools and kits for your children.

You will get a 30-day money-back guarantee.

We offer in-person and virtual classes (virtual works just fine)
Cons
Our curriculum doesn't include science and math courses that may help children in their coding courses.

Since our classes are live cohort-based, we don't provide on-demand video courses at the moment.
Price
Weekly 1-hour class:

$129/month 

Weekly 2-hour class:

$199/month
The student-to-teacher ratio in group classes is 5:1. Parents get flexibility in terms of month-to-month payments. 
Weekly 1-hour private class:

$249/month
5-day camp:

$249

4-day camp:

$199
2 hours of fun activities:

$250
2 hours of fun activities:

$49
Book a free demo class with us now and see for yourself!

Review
If you still have doubts, look at some of MakerKids' success stories. 
Best Scratch Coding Classes for Kids #2: Code Spark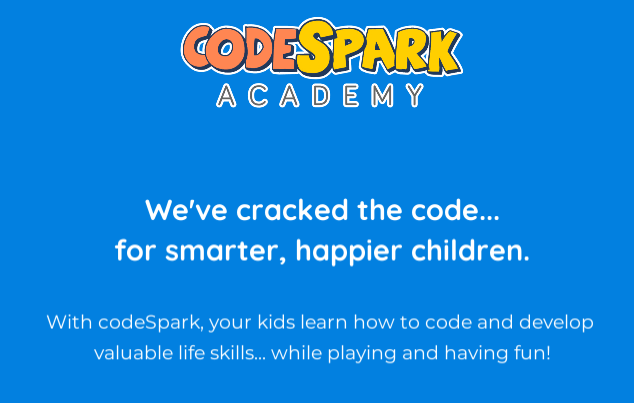 Code Spark introduces kids to coding and valuable life skills while playing and having fun.
Quick Facts
Free trial details:

First class is free

Age recommendation:

5-8

Company location:

California, United States

The module of class:

Live 1-1 
Key Features
Here are the main features of Code Spark.
The Explore Section
This section introduces kids to variables, inequalities, boolean logic, and other sophisticated coding concepts. There are games to reinforce these concepts among children without boring them.
Learning through Games
Code Spark uses drag-and-drop style apps and games to teach children basic coding concepts. Games have more of an arcade feel. So, children don't need any prompting to play.
Games for Every Concept
To teach children concepts like stacks and queues, variables, boolean logic, and others, Code Spark has designed games for each one. In the "Stacks and Queues" game, children have to select the order of the animals from the platform to place the appropriate character.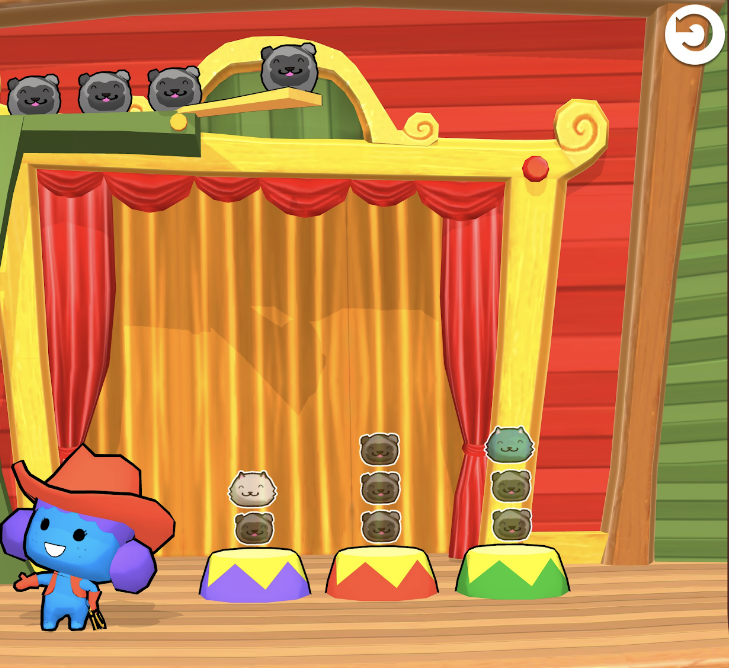 Best For
One challenge kids face while learning to code is a short attention span. But Code Spark has the perfect solution for it. It has designed many unique, fun, and challenging games for kids.
So kids will never feel bored or lose interest in coding. Code Spark also offers robust parental login controls to see your child's progress. 
With Code Spark, your kid's screen time becomes more educational. The more time they spent on their devices playing games, the more they can learn. 
Also, Code Spark makes critical skills accessible to kids everywhere. Its curriculum is suitable for both boys and girls. Code Spark designs its programs to increase engagement in girls and decrease the gender gap in STEM.
Since it has a word-free interface, kids learn to code before they can learn to read. Early achievements in games and challenges motivate kids to face anything in the future. 
Pros
It uses gamification to teach children.

It gives kids exposure to advanced concepts.

Games have an arcade feel that children enjoy.
Cons
You need to sign-up for a teacher's account to get all the lessons and the formal curriculum.
Price
6 months:

$59.99

12 months:

$89.99
They also have gift plans which are more expensive than subscriptions, and don't offer month-to-month payment flexibility.
Review
Let us see what the parents say about Code Spark.

Best Scratch Coding Classes for Kids #3: Kodable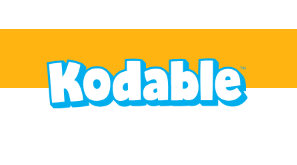 Kodable brings the world of coding to your fingertips with interactive classes and creative activities. 
Quick Facts
Free trial details:

First class is free

Age recommendation:

4-11

Company location:

San Diego, United States

The module of class:

Live 1-1 online class
Key Features
Let us see what features Kodable offers.
80 Levels of Learning
Kodable has over 80 levels of coding for your kids to explore. Each level is based on a different theme. For example, there are levels to improve strategic thinking, understand patterns, develop creativity, and so on.
A Strong Foundation
Kodable wants to teach children by using a game-based curriculum. After enrolling, your kids will learn 13 beginner concepts and face creative coding challenges. 
Also, each game area contains an editor function. So kids can design their new versions and share them with others. Kids start to become real game designers while playing games. 
Independent Learning for Kids
In Kodable, each concept has self-guided features. So children can learn, explore, and master skills in their own time. Lessons have video guidelines, interactive tutorials, and an adaptive hint helper called FuzzBuzz. Kids can get stuck and find their way out in no time. 
Best For
Kodable is best for kids who do not like to read and type lines of code. It uses drag-and-drop programming methods of Scratch programming to teach children. 
Also, if you want your kids to become aware of social concepts, Kodable is the right choice. Many of the games are based on socially conscious themes, like Beach Cleanup, where kids have to remove trash from the beach to save animals. 
Also, when kids drag and drop blocks, they are exposed to actual codes on the screen even though they are not typing anything. So, kids get to learn both ways. 
Pros
It supports a full K-12 curriculum.

It gives kids exposure to advanced coding concepts. 
Cons
Regular email promotions become a nuisance for parents. 

There is no clear learning path.

Some challenges are very difficult with no clear solutions.
Price
Monthly payment:

$9.99

Yearly payment:

$59.99
Review
Let's look at what people say about Kodable.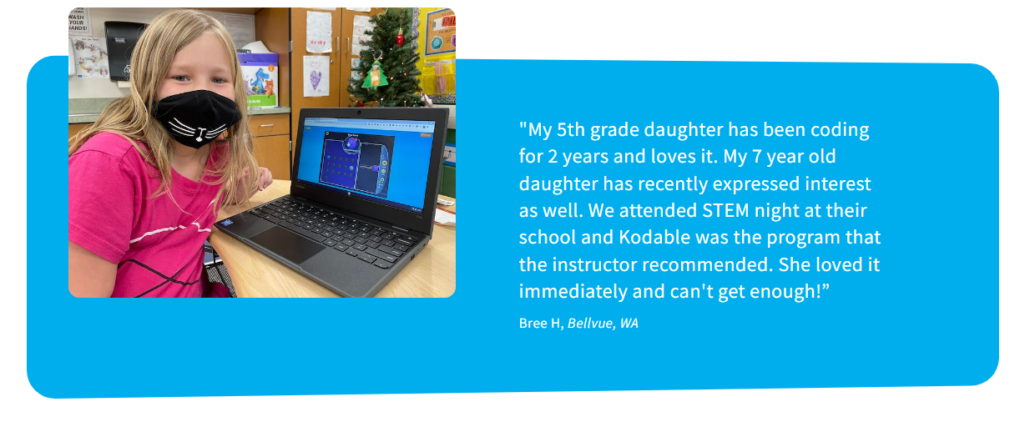 Best Scratch Coding Classes for Kids: What Kind of Classes are Considered Best?
We believe that parents want a supportive learning environment for their kids. They need platforms that will not only help children become better coders but also better individuals. 
Also, kids need to be a part of a healthy competitive environment. Children will move toward a better future through challenges, failures, and successes. 
Best Scratch Coding Classes for Kids: Our Verdict
You now know the three best scratch coding classes for kids. But we believe you don't need to look beyond MakerKids. 
Engineers, entrepreneurs, and teachers who graduated from NASA have designed our curriculum. Our instructors are hired after a rigorous recruitment process. So, we have a professional and credible curriculum.
We focus on fostering computational and social skills among children. We not only encourage children to think out of the box but also help them express their ideas. 
Our best feature is that we teach children with special conditions. Children with ADHD, Asperger's syndrome, and other conditions learn to pursue their dreams regardless of their situation. 
In short, we want to bring out the potential in your kids. So, try out MakerKids today and set a bright future for your kids. 
Comparison Table
| | | | |
| --- | --- | --- | --- |
| Items | MakerKids | Code Spark | Kodable |
| Courses | Coding | Coding | Coding |
| One Thing They Are Great At | Focuses on special kids with Mental Health | Makes children's screen time more educational | Focuses on teaching children socially conscious themes  |
| Modes of Learning | Live 1-1 and groups | Live 1-1  | Live 1-1  |
| Student Age | 6-13 | 5-8 | 4-11 |
| Student to Instructor Ratio | 5:1 | 1:1 | 1:1 |
| Price Range | Moderate | Moderate | Cheap |
| Price | Starts at $129/month | Starts at $59.99 | $9.99/month |
| Links | MakerKids | Code Spark | Kodable |