If you're looking for a coding or robotics program for your child, and your child has never taken one before, you may be lost as to where to start. Choosing the right program is like finding the right school for your child. You want to find the one that fits them and their needs the best. But, how do you choose the right program for your child? 
We're going to share 9 valuable tips to help you find the right coding or robotics program for your child. We'll also tell you about how the classes at MakerKids are the right fit for many kids looking to get started in learning about these exciting topics.
9 Factors to Consider When Searching for the Right Coding or Robotics Program for Your Child
1. Convenience
Many parents don't want to drive far to take their children to activities. The more convenient they are, the better it can be for everyone. Look for programs that are close by, even better, search for programs that are online. This way your child can get the benefits of a coding or robotics program without ever leaving the house! At MakerKids we offer both online and in-person classes for your convenience.
2. Value
With the price of everything rising, you want to find a program that gives you the most for your money. Ask what the program entails, what your child will learn, how frequently the classes meet, and for how long. The answers to these questions can help you determine the value of the program you're considering. 
3. Age-Appropriate Classes
You want to be sure that the classes your child is taking, whether it's a coding or robotics program, are age-appropriate. This will ensure that they don't get bored if the class is too easy or frustrated if the class is too hard. 
At MakerKids, our classes are separated between kids in grades 3-5 and those in grades 6-8. Children in grades 1-2 are grouped together. This allows children to work with their peers and get the most out of their program.
4. Student-to-Teacher Ratio
If there are too many students in a class, the teacher can not give the attention that each child needs and deserves. Look for classes with a low student-to-teacher ratio so you can give your child the best opportunity for success.
5. Quality Teachers
Any adult working with your child in a coding or robotics program should not only have the proper training but also go through a full background check. At MakerKids, all of our staff members are properly vetted to ensure your child's safety and to allow for the best learning experience possible.
6. Solid Curriculum
What will your child be doing and creating in their coding or robotics program? Look for programs with a solid curriculum. Ask the program director specifically what is taught and what children will be expected to do. This can help you decide if it's a program your child will enjoy taking part in and if you're getting enough value for your money.
7. Encouraging Community
You want your child to take a coding or robotics program in an encouraging community. Your child should feel comfortable when they take the classes and feel comfortable asking questions. This creates a sense of community that will help to foster your child's love of the topics they're learning.
8. Check Reviews
Be sure to read reviews and see what other parents have to say about the classes their children have taken. They can give you a first-hand account of what to expect.
9. Look for Trial Classes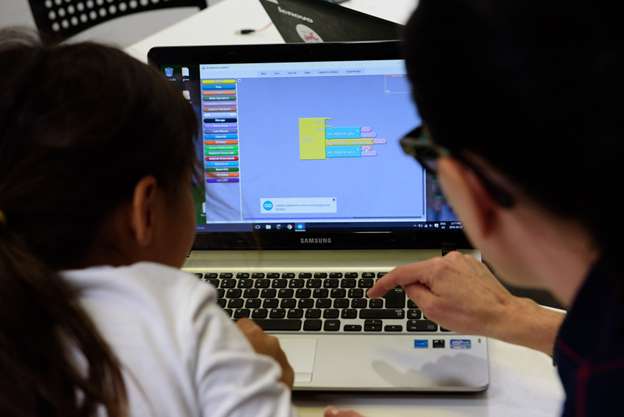 Nothing is worse than spending a lot of money on an activity for your child only for them to dislike it so much that they don't want to do it. Look for a place that offers a trial class so your child can see what it's all about. MakerKids does offer a free class for all kids to try when they are looking at our programs. It's great to get a real feel of what to expect when you join.
Coding and Robotics Programs at MakerKids
At MakerKids, we teach children coding and robotics either in person or in a virtual setting. This makes them very convenient no matter where you live.
Coding and robotics classes are offered for kids in grades 3-5 and grades 6-8. This allows children to be grouped with others in their age group so that they can learn from each other. 
Our coding classes cover skills like:
Animation

Beta Testing 

Environment and level design

Storyboarding

Character development
In our robotics classes, kids can learn:
Electronics

Coding

Math

How to make lights work
Our coding and robotics programs are available at beginner and intermediate levels. We offer a mentor-to-student ratio of 1:5 so children get the attention they need to succeed. For more information on our classes, call 1-844-MAKERKIDS or reach out to us online. Book a free trial class for your child and experience the MakerKids difference!