When you're looking for a program for your kids, you not only want one that's fun but also educational. By introducing them to these types of programs, you'll expose them to a variety of different topics. They may find something that they never thought of exploring before.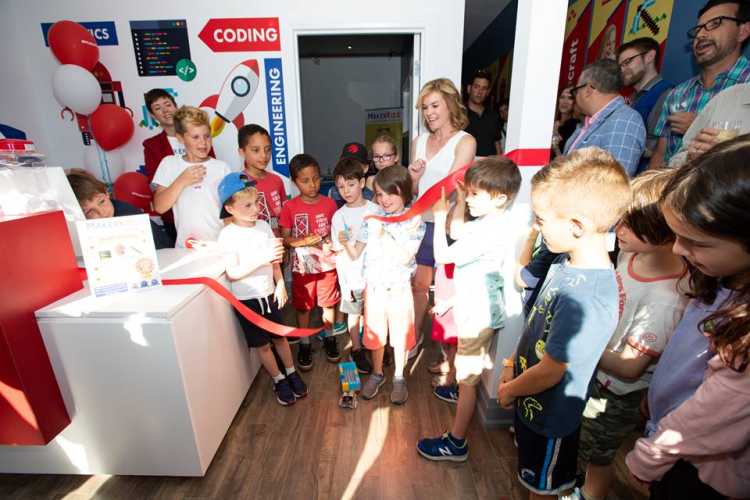 MakerKids is now bringing its award-winning programs to its new location in Leaside. All the programs kids have already grown to love at MakerKids in Bloor West, are now also available in Midtown and North Toronto. Leaside is a strong family and education-based community that is the perfect spot for a MakerKids location.
At the recent grand opening, many parents and kids came to check out the amazing, new space. More than 100 kids came through to try out the progressive curriculum and several of them walked away with great door prizes like Microbit Robotics Kits, gift certificates and more.
Local MP Rob Oliphant's office made a wonderful speech about MakerKids' contribution to Canada's summer jobs for youth. Two of the instructors are summer students in top notch engineering and robotics university programs.
What can my kids do at MakerKids in Leaside?
The new Leaside location has three bright rooms that house kids in grades 1-8. Using state-of-the-art technology tools like micro-controllers, laptops, wires, alligator clips, and breadboards to fuel creativity. The ground level location is also wheelchair accessible with plenty of windows to let in light.
MakerKids in Leaside is devoted to offering a well-rounded STEM education. This includes robotics, coding, and Minecraft programs. All of these programs bring the best out of each discipline while incorporating teamwork and discipline. Children not only learn about each area, but they also make friends with other children who have similar interests.
In the coding programs, kids learn how to plan, program and build electronic inventions that once only existed in their minds. At MakerKids those ideas are brought to life with the help of mentors who can advise students about the best ways to make it happen. They'll not only learn how to make things that are fun but things that are also functional.
For those interested in Minecraft, the Minecraft program at MakerKids teaches kids how to enhance their experience with the game. They also learn about core computer programming concepts while working with kids who have an equal love the game. For many kids, Minecraft is a gateway to learn about other STEM topics.
All of the programs are offered at different grade levels. Children in grades one and two are together in mini-maker classes while children in grades 3-5 are grouped together. For older children, there are programs for those in grades 6-8. You can start your child young and let them work their way through the various MakerKids programs.
If you're interested, drop by to the new facility and see why so many parents have already enrolled their children. The Leaside location also hosts fun birthday parties!
Call 1-844-MAKERKIDS today and let your child's imagination soar with our various STEM programs in Leaside.