Robotics and coding for kids have become increasingly popular as kids realize how fun and exciting these types of programs can be. Besides being fun, robotics and coding can also help kids to be creative and innovative. 
At MakerKids, we give kids the tools they need to make all of their robotics and coding visions come true. If you or your child are new to the robotics and coding scene, we're here to give you the information you need to learn more about robotics and coding. 
In this article you will learn:
What is Robotics?

What is Coding?

How Coding and Robotics Help Kids to be Innovate & Be Creative

Coding and Robotics at MakerKid
What is Robotics?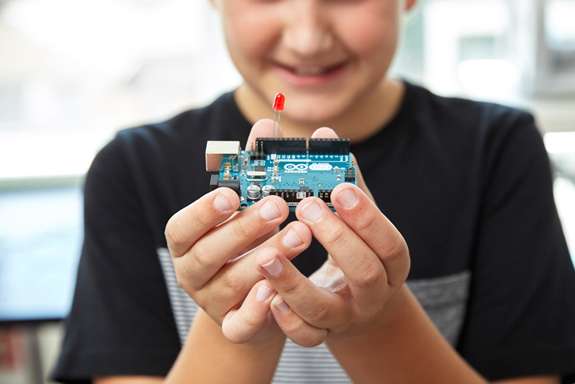 Robotics covers any activity that helps kids understand robots. In our robotics programs at MakerKids, kids design, plan, program, and build their electronic inventions while using a robotics controller. These are the same types of controllers that industry professionals use. 
Kids use online robotics simulator technology to learn how to do things like wire circuits, make lights work, and learn how to solve real-world problems. They learn how to make things that people can actually use.
What is Coding?
Coding tells a computer what actions to take. Think of it like a set of instructions for the computer. 
Coding for kids at MakerKids teaches how computers work, and exercise creativity by seeing their projects come to life.
How Coding and Robotics Help Kids to Innovate and be Creative
Coding and robotics can help in a child's development by providing hands-on learning and an innovative education. 
Sparks Creativity
Robotics and coding spark curiosity. Both programs encourage kids to use their imagination to the fullest. When kids start to question how things around them work and how they were developed, they will get on a path to innovation.
Robotics programs and coding games challenge kids to design new things. As kids begin to grasp the basics, they can expand upon these skills.
Coding and robotics are learning tools that lead to usable and real products.
Opens New Doors
As kids learn how to program and control robots, it can open new doors to show them how technology works. This can spark more interest in these topics as they get older. What starts off as a hobby as a child can evolve into a career as an adult.
Helps Kids Solve Problems
If kids want to develop a robotics or coding project, they need to solve problems along the way. They develop the perseverance that is needed to solve problems and work through the bumps in the road that can come along with their projects.
Kids also work on their logic and reasoning skills in the process.
Teamwork Skills
Through a coding or robotics program, kids work on their teamwork skills which can help to encourage them to be innovative. Many times working with others can spark new ideas that can lead to creations kids may have never thought about before. This is a win-win as kids learn to work together and get the inspiration they need to develop new ideas.
Coding and Robotics at MakerKids
At MakerKids, we teach children of all ages and at all levels, how to code and build robotics projects. Our classes are available in-person and online. 
Coding and robotics classes are offered for kids in grades 3-5 and grades 6-8. This allows children to be grouped with others in their age group so that they can learn from each other. 
Our coding classes cover skills like:
Storyboarding

Character development

Animation

Beta Testing 

Environment and level design
Our coding for kids classes are offered at the beginner, intermediate, and advanced levels. 
In our robotics classes, kids can learn:
Coding

Math

Electronics

How to make lights work
If your child is new to coding, don't worry! We offer classes at the beginner, intermediate, and advanced stages so that each child can work at their own level. With a mentor-to-student ratio of 1:5 children also get the attention they need to succeed.
Our robotics programs are available at beginner and intermediate levels. 
All of our classes are kept small so that kids get the individual attention they need to make their projects come to life. For more information on our classes, call 1-844-MAKERKIDS or reach out to us online. Book a free trial class for your child and experience the MakerKids difference!