– World-class Maker-Mentors for your child
– Police-checked, triple-reference checked
– Highly experienced and trained
Meet some of our Maker-Mentors:
8+ years of camp experience
Thomas is a passionate Minecrafter with a deep love of sci-fi, fantasy, puns and music! With 8 years of camp counselor experience and a lifetime of theatre, he always leads his sessions with an enthusiasm that is rivaled only by his students. After studying music in the Bachelor of Arts program at the University of Guelph he taught singing and piano for two years at Guelph's largest private music school, started building his own Minecraft servers and coded his own band website.
Thomas is all about game design, fairness and fun. If you need help with balancing your video game or concepts for a project he is always on board to assist you. Thomas can also be frequently found on the MakerKids Minecraft server keeping the Makers safe and adding his own little details.
Achievements: Eight years of camp experience, Bachelor's of Arts (Music)
Specialties: Minecraft, coding, servers and networks
Andrew is an Ontario College of Teachers certified teacher with a passion for video games and fitness. Andrew has 6+ years of experience working with kids of all age groups in both the classroom and afterschool programs. Andrew's passion for teaching began when working with special education students as a high school student. This experience led him to further explore the realm of education
by attending York University's Faculty of Education.
Achievements: BA, Sociology. BEd, Education.
Specialties: Completion of additional qualification courses in special education
25+ years in the IT industry
Don't be fooled by the 25 Years of experience in the IT Industry, I am a MakerKid at heart. Drawing on a background as a custom software developer and an information security professional, I jumped at the opportunity to switch from making spreadsheets, Powerpoint decks, and emails for the Financial Industry to joining the Makerkid's mission to encourage interest in STEM in the next generation and generate top IT talent. Recognized often in the Swansea community as a certified soccer coach with the Toronto High Park Football Club, and with past gigs coaching rowing and snowboarding, I enjoy translating course material to a spirited audience. A casual gamer, I play franchise strategy games such as Civilization, SimCity, and Rollercoaster Tycoon, plus the original online game, Nethack. When not in front of a screen, I enjoy road biking, snowboarding, and dabbling in projects at the cottage with my wife and 2 Makergirls.
Fun Fact: I was once taught Microsystem Programming (i.e. Robotics) by our new GG and former Canadian Astronaut Julie Payette as an undergraduate U of T.
Mechanical Engineering Student, U of T
I am a mechanical engineering student at U of T. I am interested in robotics. I have been a camp counselor for 3 years at an outdoors camp and I have been coding since I was in middle school. I love playing videos and learning about new STEM concepts, and I'm excited to pass them on to the Makers!
Graduated with highest distinction
Hello, my name is Ariel! I enjoy playing board games, doing nail art and teaching children. I've spent a lot of my time learning and teaching in a variety of different learning environments. I have worked for the YMCA, volunteered for day camps and had a number of placements in other learning spaces such as TDSB classrooms and the Boys and Girls Club.
Achievements: I completed my undergrad at Ryerson University where I studied Early Childhood Education. I most recently earned my Bachelors of Education at UOIT where I graduated with the highest distinction. More simply put, I love learning.
Specialties: Teaching children with unique skills and abilities, meeting diverse learning needs and optimism!!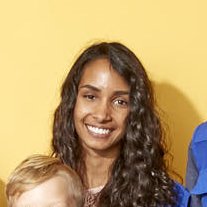 Bachelor of Arts, Psychology
Meet Sarah: she's a creative, artsy person who loves kids. When not working or spending time with friends, she can be found on Pinterest, looking for new crafts, recipes and new ways of thinking about education. She loves video games (especially the LEGO ones!), Geocaching, and referring to herself in the third person.
Achievements: Sarah has a Bachelor of Arts in Psychology from Brescia at Western University. She focused on social psychology, specifically child development and education. She won a scholarship for public speaking and is an adult member of Girl Guides of Canada. When she was the same age as the MakerKids, she won an Oreo stacking contest, created a newspaper with her brother and had a painting displayed in a local gallery.
Specialties: General crafting, sewing and embroidery, painting, baking.
Meet our CEO: Jennifer Turliuk
Graduate of Singularity University at NASA
Jennifer's work has been featured in the New York Times, Forbes, Huffington Post, Fast Company, CBS national TV, and more. Her career highlights include doing marketing and PR for the Matterform 3D Scanner crowdfunding campaign (which raised over $471K – the most-funded Indiegogo campaign outside the US), helping build a 3D printer for a music video, launching an SMS-based disaster relief project during Hurricane Sandy, being selected as a Startup Chile entrepreneur (as part of a program run by the Government of Chile to foster entrepreneurship locally), creating her own self-education program which involved being 1 of the top 6 finalists in a competition to shadow Dave McClure of 500 Startups, leading the Canadian launch of Tide Pods (P&G's biggest launch in 27 years), running Canada's largest business plan competition (the Queen's Entrepreneurs' Competition), writing one of Forbes Greatest Hits articles, speaking on a panel discussion with Peter Thiel (founder of Paypal), doing a TEDx talk in Spanish, being invited to join MaiTai (a group of pro kiteboarders and entrepreneurs), and DJing for Red Bull. She attended the Graduate Studies Program at NASA's Singularity University and business school at Queen's University. In her spare time, she does independent marketing and strategy consulting and enjoys salsa dancing, extreme sports (such as kiteboarding), improv, 3D printing, and building electronic creations.