Amidst Looming Government Cuts to STEM Programs
Toronto, ON, August 13, 2019 – MakerKids, the first maker space for kids in North America, brings its award-winning after-school and weekend programs to the new Leaside location this fall, amidst current government cuts to STEM programming.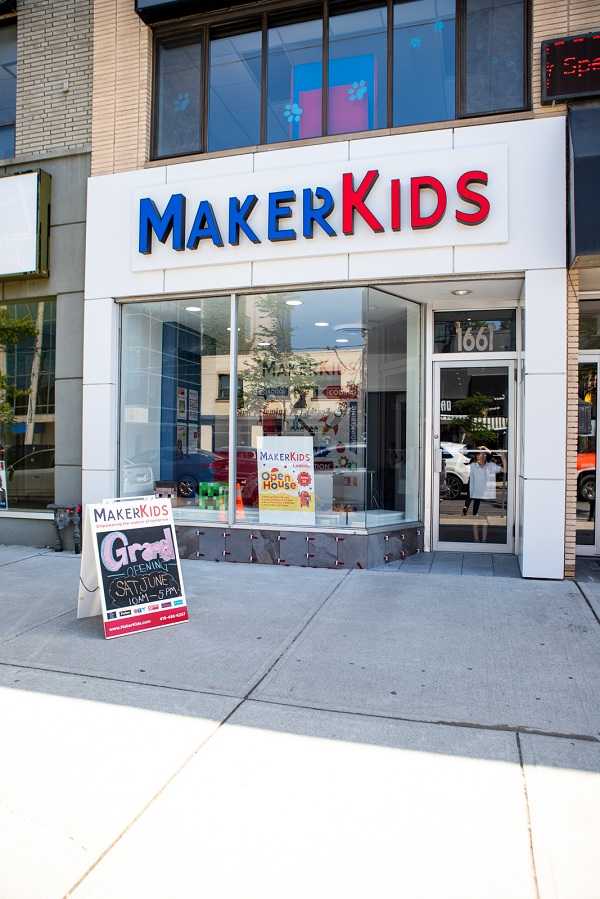 "Our robotics, coding and minecraft educational programs are in high demand, and now we're able to offer them to Midtown, North Toronto and East York at the brand new Leaside location," says Jennifer Turliuk, CEO of MakerKids, a Canadian pioneer in STEM programs for kids and graduate of Singularity University at NASA. Studies show children exposed to science, technology, engineering and math at a young age are more likely to enter those fields. It's especially important for girls.
Toronto is rapidly becoming a global tech hub with a massive shortage of graduates to fill the available jobs, a gap that continues to grow in the market. Parents are concerned about the recent government cuts to STEM programs, they want to set their children up for success – and MakerKids provides the top-notch solution for children in grades one to eight this fall.
A fun, diverse curriculum will inspire kids to bring their ideas to life at MakerKids' regular after-school and weekend programming, now open for registration and filling up fast. MakerKids also runs week-long camps where kids can develop a healthy relationship with technology, build self-confidence and real-life skills. Families are invited to attend an open house at the Leaside location Labour Day weekend with free trials all day long on August 31. 
For more info, visit MakerKids.com, rsvp to the MakerKids Leaside Open House, sign up for camps or watch our video or follow us here FB, TW, Insta.
About MakerKids
Founded in 2010, MakerKids is the leading provider of STEM programs for kids designed and created by highly trained industry professionals and makers (engineers, entrepreneurs, teachers and speakers). MakerKids' CEO Jennifer Turliuk is a graduate of Singularity University at NASA. The first makerspace in North America, it has been named "Best Kids' Workshops" (Toronto Life Magazine), Top 5 Kids' Digital Tech Programs (BlogTO), Top 10 Awesome Birthday Parties (Today's Parent), Summer Camp Recommended (Toronto Star), Reader's Choice, Maker Faire 2017 Winner, NextGen Franchising Global Competition Winner, Telus Pitch Community Impact Award Winner and is Accredited by the Ontario Camps Association. It's been featured on Breakfast Television, CP24, CTV, CBC, Wired, Forbes and more. Thousands of kids have taken MakerKids' STEM programs in Coding, Robotics and Minecraft. MakerKids' camps, after school and weekend programs and birthday parties that empower children to be creators, not just consumers.