When I was a kid, I experienced a lot of bullying and had a fairly hard time with it. Other kids made fun of me for getting good grades, for the questions I asked in class and the big words that I used, and for my appearance. I had no friends, and spent most of my time at recess reading in an empty classroom in an attempt to avoid the other kids insulting me. Everyday, I rode the bus home sitting alone and feeling sad. I wondered if life would ever get better.  
When I was 12 years old, my English teacher took a shining to me and gave me an enrichment project: to code a website for my Harry Potter book report. I set out learning how to code using a simple drag and drop coding environment online, and made my first website: "Jenn's Harry Potter". It was the early days of the internet, so there weren't that many Harry Potter illustrations online. I didn't know about copyright laws at the time, so I basically scoured the net to find all the Harry Potter illustrations that I could, and I put them on my website. I got a good grade on the project, and then put the website project aside and sort of forgot about it.
A few months later, my brother came down the stairs holding a children's magazine.
"Jenn, did you make a website called 'Jenn's Harry Potter?" he said.
"Yeah, why?"
"I think it's in this magazine."
I grabbed the magazine out of his hands to check. He was right! My very first website, was featured in a children's magazine!
I was ecstatic! I logged back onto the site and my hit counter showed that the site had had hundreds of thousands of views. And people in my guestbook were saying this was the most comprehensive Harry Potter image site on the net.
I showed the magazine article to my parents, my teacher and the other kids at school. The other kids made fun of me, but this time, I didn't care. I could make things! Things that other people could use. It was shortly after that that I started my first business: a jewellery business. I walked up to unsuspecting adults in my cottage town and sold them hemp bracelets for $40. My total cost of goods sold? $3. A $37 profit per bracelet! It was then that I got my first taste of entrepreneurship. I went on to start a babysitting business, a private swimming lessons company, and when I got to university, a DJing business. Throughout, I had jobs leading programs for kids – camps, weekly classes, and more.
Somewhere along the way, I got it in my mind that I wanted to join the corporate world after university. I landed a coveted position, and put my entrepreneurial dreams aside. But a few short months into my new job, I was unhappy and depressed. I knew I could do and be something more – and looking back, this was probably due to the experience I had when I was 12.
So I quit. I quit and set out on a path to figure out something that was arguably more important than perfecting my cover letter: figuring out what to do with my life. I started a few businesses and along the way, I was selected for a program based at NASA called Singularity University. I lived on a NASA base for 10 weeks with 80 other students from around the world (selected from 3000 applicants) and learned about robotics, coding, 3D printing and more, and how to apply them to areas like health, education and poverty. It was there that I realized the critical importance of education – for example, I learned that the single most effective way of reducing poverty is education. I realized that to change the world, we first need to change ourselves – and the way to do that is through education.
When I returned home, I realized that what I most wanted to do was provide more experiences like the one I'd had when I was 12, and elements of what I'd learned at NASA, to more kids. I grew MakerKids from a small operation to one that sees thousands of kids per year. Over the years, we've figured out what works and what doesn't. We've chosen to focus on three main topics which we believe are best for helping kids develop the skills and mindsets to become innovators: Coding, Robotics and Minecraft. But really, the technology is secondary to what matters most to us: helping kids develop soft skills such as confidence, resilience, leadership, a growth mindset, and most of all, the believe that they can do anything. Because a child who believes in him or herself can literally do anything. Anything. And we've seen it: kids starting businesses, presenting robots on national TV, or things that may seem small to some but are huge for kids – making new friends at school via the Minecraft server they've created, feeling like they fit in for the first time, becoming more engaged at school, and other transformations. It's not about sitting in front of a screen mindlessly – it's about learning to use the tools in front of you to better the lives of yourself and others.
Children's mental health agencies, special education programs and gifted programs have even started referring some of their clients to us; some families are using are programs as a form of high-tech arts therapy where kids feel better during and after our programs. With catch phrases like "It's OK to fail" and "If you think you're behind, you're probably actually ahead" and special training in working with kids with mental health diagnoses and learning disabilities, our instructors help kids to overcome setbacks in their learning, to make projects that are truly their own, to think for themselves, and to be recognized for skills that may not be typically praised at school. Rather than just giving kids the answers they seek right away, we first try to help kids find the answer themselves through logic and reasoning; this sort of critical thinking development will set them up well for the rest of their lives. And most of all, kids are getting that experience of making things that help them realize that they can do anything. Coding a switch that turns a tiny light on and off, just like the light switches we see around our houses. Creating a server in Minecraft, just like the servers that host websites. Designing and coding a video game that their friends can play at home. Programming a small buzzer to play a song using different frequencies as notes. Using a light sensor to create a nightlight. Working as a group to plan, design and build a 3D city in Minecraft. Participants use real software that is used to make amazing inventions by industry professionals, and kids. A 12-year-old we know with the nickname "Super Awesome Sylvia" created the PaintBot, a 3D automatic watercolor painter. At 14, a teen who is on the autism spectrum we know named Joey Hudy started his own business creating and selling circuit boards; he's visited Obama and now has an internship with Intel. And then they're Quin Etnyre, who at 13 was teaching MIT graduates how to program. Locally, we've had some of our students go on to teach programming at their schools (one kid taught 60 kids over a 10 week period!), run Minecraft clubs at lunch hours, build underwater robots, teach their class about electronics, present their robots on national TV, write articles in magazines, and start businesses (e.g. one 10-year-old makes and fixes audio speakers for his neighbours). They're taking what they've learned with us and entering into leadership roles where they teach the skills to other kids. And we believe that they'll go on to do even bigger and better things as they get older. Because they will know that they can, and will have the desire to do so.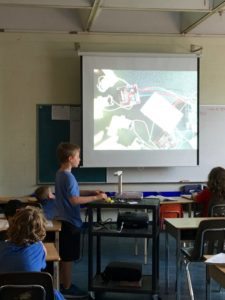 Testimonials from Parents:
"MakerKids provides hands on training, that is not accessible in the regular school system. It helps prepare kids for jobs that don't exist yet. It is important for kids and gives them a competitive advantage." – Max's Parents
"Very applicable to real life with the focus on STEM curriculum which primary schools do not have; hands on learning and not just on the computer – in robotics the kids actually build 'things' – also love how excited Goran is to go to MakerKids – he just won't miss it for anything – he looks forward to it! – instructors are AMAZING – so good with kids and really work with them as students – they don't talk to them like 'kids' and truly treat them with respect for their intelligence and ability to learn quickly." – Goran's Mom