1 of the Top 10 Awesome Birthday Party Places in Toronto
"Makerspace lets kids play to encourage creativity and confidence"

"MakerKids is teaching Toronto children to 'design the future'"
MakerKids was selected as one of two concepts nationally to represent what STEM education in Canada will look like in 2067, for the Canada 2067 campaign.
Kid-Friendly Toronto Creativity at MakerKids
Toronto Mom Now
"Do you have crafty kids? Are your little ones burgeoning DIY enthusiasts? If so, you'll want to check out MakerKids, a makerspace for youth in Toronto. You'll find lots of kid-friendly Toronto fun at MakerKids, with hands-on programs including electronics, programming, and more. This is not your regular arts and crafts program. With a dedication to encouraging creativity and empowering kids to come up with their own project ideas, your kids will have the freedom to explore and learn by doing. The adults will act as mentors.
Join the Maker Movement. The Maker movement is hot, and it's growing exponentially through magazines, web sites, community spaces and events. Collective community workshops known as Hackerspaces or Makerspaces have grown worldwide from 124 in 2009 to over 500 in 2011. This movement inspired MakerKids founders to create one of the first Makerspaces for kids. They started in 2010 with a summer program and school events. In 2011 they found a permanent space, and in April of 2012 they opened their doors. It's a resource centre for the community, where you'll find ideas, inspiration and implementation.
No experience is necessary to visit this kid-friendly Toronto Makerspace. Many people who attend are beginners. It's okay if you don't know much about math or physics. Everything is customized to your knowledge and ability, and you learn along the way. One child who attended their programs shared, "At first when I came here, I had no idea how any of this electric stuff worked, and I'm just like, how I am going to be able to make this? But over time with my mistakes, I realized it gets easier and it comes to me and sometimes making a mistake actually teaches you something – why something doesn't work."
Children are innately creative, and have amazing ideas when they're given the freedom to explore. MakerKids is kid-friendly Toronto space where your children will find that freedom, so that they can learn by doing. They offer a wide variety of programs for kids. You'll find workshops, after-school programs, Minecraft programs and even birthday parties. Through their programs they're encouraging others to become creators, and not just consumers. That's a pretty powerful thing. To find out more, and to sign up for program yourself, visit their website."
Makerspace lets kids play with tools to encourage creativity and confidence
Wired
"At the Singularity University programme at NASA we're told about the major world problems — global health, environment, etc. But with 80 percent of people dissatisfied with their work and one in four people suffering from mental health problems, it's hard to do work that's awesome and changes the world," said Tukliuk at the Maker Faire in Rome. "Yet everything we see is created by humans — therefore we must increase human potential and have more innovations."
To do this, she explains, people need opportunities, skills, knowledge and confidence — and childhood is of course the best time to optimise these.
"Convince someone they're a leader when they are a child, and they will carry that with them for the rest of their lives."
She describes MakerKids as being like the Montessori School for the 21st Century. The school, for two to seven-year-olds, is famous for enabling self-directed and collaborative learning rather than dictatorial. Steve Wozniak, Sergey Brin and Jeff Bezos have spoken publicly about their admiration for the method, which they say teaches kids "not to follow rules and orders, but instead do things a little differently".
Meanwhile, making in schools remains step-by-step, she says, and little creativity is therefore used. There are plenty of hackerspaces for adults, because there are fewer liability fears round letting them experiment. With kids, it's different.
At MakerKids there is a "possibility wall", with all the different tools available for the kids to choose when curiosity takes them. They can play around with Robotics, Minecraft and Coding. They host themed workshops, birthday parties and free trial classes. The idea is that Turliuk and colleagues are there to support the kids and make sure they're safe, not do things for them.
"They are safe and can be creative and have autonomy here. They take ownership and tell other kids to clean up or act more safely with tools — I've never seen that anywhere else. Some kids come to us with severe behavioural problems — we see them acting like little angels, we treat them like adults and they live up to that. They have fun, and know not to goof off.
If a child is nervous about using a piece of software nd asks a teacher to do it for them, they refuse — they'll either encourage them to learn, research online or help them find another way of achieving the same goal. They also ensure the kids know, it's ok to fail.
Showing a photo of a kid wearing an electronic bow tie he'd made for his father, both beaming as much as the red LEDs lit up around the child's neck, it's clear the Toronto maker space is now a welcome necessity for driving the next generation of innovations.
"If they can see themselves as creators rather than consumers, imagine what kind of impact they'll have on the world."
Remaking the way children learn and play
DAVE MCGINN The Globe and Mail Published Thursday, Nov. 21, 2013 5:00PM EST
Inside MakerKids, a workshop space in Toronto's west end, children are presented with what's called the Possibility Wall. The shelves on the wall are filled with bins of just about anything a child might think to create with – motors, gears, crayons, glitter, electrical tape, and scissors. There's also 3-D printers, along with several tables and computers.
From this, kids are free to create whatever their imaginations come up with.
"The light turns on when they realize it's anything that they want to do."
Since the space opened in 2010, it has seen a steady stream of kids that attend a range of classes that include inventing, programming and robotics. Children also regularly attend the workshops, where robotics is especially popular, as is making things on the 3-D printer and working with Arduinos, programmable circuit boards.
The maker movement is on the cusp of mainstream recognition. Christened in 2006, makers represent a do-it-yourself culture informed by a hacker ethos that often has a strong tech element. It includes everything from robotics, 3-D printing and electronics to traditional arts and crafts. Maker Faires that attract thousands of visitors are cropping up all over the world, including several in Canada. And maker spaces are also sprouting up in Canada, where kids can develop a passion for science and technology.
These classes are perhaps the latest example of how the way children play is changing. While kids have long tinkered in the garage with a parent, maker spaces provide kids with the chance to explore science, technology and engineering in a more formalized way.
Jason Nolan, an associate professor at the school of early-childhood education at Toronto's Ryerson University, says that, "In terms of maker culture, laser cutters, 3-D scanners and 3-D printers, Arduino circuits and DIY robotics are great ways of extending a child's interest in STEM [science, technology, engineering and math] beyond what they've done on their own at home. However, there must always be an intrinsic interest on which to build."
"It is a way to shape, if not create, the culture we live in," says Dale Dougherty, founder of Maker Media, a company based in Sebastopol, Calif. He coined the term maker in 2006; it appealed because it was broad enough to include a wide array of pursuits.
At Toronto's MakerKids, recent projects have included an underwater robot and one seven-year-old girl's remote-controlled teddy bear, which she learned to use a soldering gun to make.
Monica Peschmann drives her nine-year-old son Patrick Burns across town so he can attend MakerKids. On a recent Friday evening, he was busy working on a security system to keep his sister out of his room. It would be made from a television remote taken from home – with mom's permission, of course – and taken apart.
"I wanted the infrared LED," Patrick explained. The system would also include a pressure plate for outside his door, which would trigger an alarm if his sister stood on it.
The space's ambition, says Jennifer Turliuk, MakerKids's CEO, is to show kids a way of thinking about themselves and the way they relate to the world.
"You think of the world a different way when you know you can impact it," she says.
10 Ways Kids Can Learn About Robotics
CBC
From coding to stop-motion animation videos to sewing, the maker movement is becoming more and more popular with kids and adults.
Maker culture is a movement that embraces do-it-yourself tinkering with electronics and physical objects—it focuses on learning and trying out new practical skills, building a community of resources and experimenting.
Robotics and electronics are two hallmarks of the maker movement (electronics explores using electronic circuits, while robotics combines circuits, movement and sometimes software to create a machine or robot). Projects can be as simple as a making a light blink, or as involved as building an entire robot.
"Light switches, electronics [and] toys seem very closed off…The average person doesn't realize they can make or impact them," says Jennifer Turliuk of MakerKids in Toronto. MakerKids is the world's first and largest makerspace that's just for kids; it offers many different maker programs for children.
"In [robotics] programs, kids start to understand how these simple machines work. They can even make their own light switch," Turliuk says.In addition to helping kids understand how things work, experimenting with robotics and electronics helps kids develop problem solving skills and creativity. Turliuk says that when kids participate in workshops at MakerKids, they "start having so much fun, they don't realize how much they're learning."
In addition to helping kids understand how things work, experimenting with robotics and electronics helps kids develop problem solving skills and creativity. Turliuk says that when kids participate in workshops at MakerKids, they "start having so much fun, they don't realize how much they're learning."
Kids who learn how to plan and build structures and projects when they're young can continue to apply these concepts as they're exposed to more complex ideas.
Robotics projects can also reinforce literacy skills, as kids research and record their robotics experiments.
While robotics projects can sometimes seem overwhelming and intimidating, there are many ways to teach kids everything they need to know to create their own robotics and electronics inventions
MakerKids teaching Toronto children to 'design the future'
By: Luke Simcoe Metro, Metro Published on Fri Dec 05 2014
"This is nothing like school".
An instructor at MakerKids in Bloor West Village, is surrounded by children gluing crafts together or staring in anticipation at 3-D printers.
"It's self-directed and interest-driven," she says. "We let the kids figure out what they want to do and help them do it."
MakerKids, which bills itself as "one of the first and only maker spaces for children," started three years ago and now occupies two floors of a small shop on Bloor St W The organization offers after-school programs for children aimed at building everything from computer games to cabinets.
On Friday, the space hosted a holiday workshop for roughly 30 children. The day was supposed to be about making DIY Christmas ornaments, but those in attendance interpreted the theme fairly broadly.
"I made an egg wearing a monocle," said nine-year-old Claire Bak, thrusting the pink, 3-D printed object towards a reporter.
"If you hang it on a tree, then it's an ornament," the instructor joked.
"This place is awesome," says one of the kids. "It's fun to make things, and you can use your imagination a lot. And there's no right or wrong thing to do."
MakerKids' founder said the goal of the organization is to empower children.
"Anyone can look at a 3-D printer and realize that it's going to change the world. But if you don't know how it works or how to use it, then you might be fearful of that future.
"We want to help kids be part of that future and give them the confidence that they can design that future."
MakerKids Winter day camp starts Dec. 29. For more information on the space, or its programming, visit makerkids.com.
What is the maker movement?
The maker movement coalesced in mid-2000s, driven by the rise of affordable manufacturing tools like 3D printers and Arduino circuit boards. Its member share an interest in do-it-yourself manufacturing, both high-tech and low-tech.
"It's a DIY ideal," said a MakerKids instructor. "It's about looking at something and being able to say 'hey, I can build that or fix that or make it better."
MakerKids: Building the Next Generation of Inventors
Justine Abigail - July 26, 2014
Kids want to be inventors when they grow up, but why wait til then? MakerKids is making that happen for kids in and around Toronto as they spark creativity and teach the technical skills to manifest their ideas. Makerkids is one of the only makerspaces in the world where kids can learn about and get their hands dirty with robotics, 3D printing, and electronics.
I happily stumbled upon MakerKids when searching for summer camps for my nephew, Legend. He's the coolest kid I know, bursting with energy and creativity and technological know-how that never fails to impress me. I find myself scratching my head as he shows me the latest features on YouTube, his photoediting skills, or his recordings of his Minecraft sessions. He lives in a world that makes me – a twenty something Millenial that lives and breathes the online social space – feel old and outdated.
Being the nerd/tiger-aunt person that I am, I wanted to find a camp that would appeal to his strengths and interests, challenge him in a productive way, and make it fun all at the same time. Luckily, I found MakerKids' Inventors camp where they would spend the week thinking up an idea for an invention and building it all from scratch. Everyday I would pick him up from camp and he would teach me something new about Arduino, Minecraft, and robotics. By the end of the week, he had built his very own life-size wolf complete with audio howling! And we're continuing the project at home before the summer ends, painting the wolf and adding little details to it to make it even more realistic.
MakerKids is such an awesome initiative that gives kids the opportunity to make what they find in their imagination a physical reality. It fills a serious void currently found in our education system; that is, a hands-on and creative experience that mixes learning and play. The kids go beyond what they would learn exclusively in textbooks, and actually explore science, technology, and engineering in a way that engages their imagination, hands, and brains. They think, design, experiment, and create…all while having fun! Who knew!
So for all the mommies and daddies in the GTA, check out MakerKids at www.makerkids.ca.
MAKE Magazine
How to Remake the World by Making with Kids
My name is Jennifer Turliuk and I'm the Co-Executive Director of MakerKids. We're one of the only makerspaces for kids in the world. I gave a talk about thisat Maker Faire Rome (where the conference theme was 'How to Remake the World') and decided to put it into article format for those who are interested. I'm going to tell you about how to remake the world by making with kids and how we're working on doing that.
Today in the world there exist a lot of different problems. At the Singularity University program at NASA, we grouped them into areas including global health, water, energy, environment, food, education, security, and poverty. How are we going to solve these problems? Well, unfortunately over 80% of workers are dissatisfied with their work, and one in four people are experiencing mental health issues. With these two things going on, it's pretty hard to do work that's awesome and that changes the world — yet everything around us that we see, including companies and buildings, was created by humans. So the main way that we can solve these problems is by increasing human potential.
How can we increase human potential and have more real innovations, like the Google self-driving car? Humans are said to have more chance of reaching their potential if they have a good career fit, and that's said to be made up of a mixture of what you're good at, what you like to do, and what the world needs. To me, the three elements that are required to achieve this are first confidence, second skills and knowledge (including self-knowledge), and third opportunities. So the way to maximize the chances of finding and securing a good career fit is by maximizing each of these three elements. How can we do that? Childhood is said to be the most formative stage of a person's life, so the best way to do this is during childhood. If you can convince someone that they're a leader when they're a child, they'll carry that with them for the rest of their life, whereas it's much harder to convince an adult who's 45 that they're a leader when they've spent their whole life thinking that they're not.
How can we create more people like the founders of Google, the CEO of Amazon, the founder of Wikipedia, and more? Each of these people has something in common in their education and I'd like you to take a moment to think about what it might be. You're probably thinking that they all either graduated from or dropped out from an Ivy League university. Well that's actually not the case. The main commonality each of them have in terms of education is that they went to Montessori schools when they were children.
For those of you who are unfamiliar with Montessori, it's a school system that was invented in Italy for children ages 2-1/2 to 7. It involves self-directed learning and discovery for long blocks of time, as well as collaborative learning, no grades, and tasks and materials mainly in the areas of math, language, music, art, and science. A typical Montessori classroom is called a prepared environment where there's lots of stimulating materials that children can choose from, and teachers are seen mainly as observers rather than what we would typically think of as a teacher.
Montessori has been extremely successful. Edison, Wozniak, Ericsson, Alexander Graham Bell and more were all supporters of Montessori. And when the founders of Google were asked if having parents who are college professors influenced their success, they instead credited Montessori. Larry Page said it was part of the training of not following rules and orders, being self motivated, questioning what's going on in the world, and doing things differently. And Sergey Brin credited his willingness to go out on his own to Montessori. Will Wright, the inventor of The Sims, said it taught him the joy of discovery and that it's all about learning on your own terms rather than the teacher explaining stuff to you. And Jeff Bezos, the CEO at Amazon, used to get so engrossed in his activities at Montessori that the teachers would literally have to pick him up and move him on to the next activity. So it's no wonder that by age 5, Montessori students test better in areas such as reading, math, and executive function (the ability to solve problems in a constantly changing world like the one we live in today).
MakerKids
Yet there's still a number of barriers to kids doing the kind of high-tech making with the tools that are becoming more popular today. One of the reasons is that many of the technology activities available to kids at schools and extracurriculars are basic and step-by-step, like building a spice rack. Spice racks are great, but not exactly the type of high-tech tool kids might use in their careers, and it's very basic, prescriptive, and step-by-step so it doesn't allow for much creativity to be used. Secondly, there are hundreds or even thousands of adult hackerspaces around the world, which were mainly born out of the desire to share the costs of high-tech machines, but very few of them offer activities for children. That's mainly because they're not sure how, there are liability issues, and they're not necessarily set up for supervision or mentorship. In the absence of access to adult hackerspaces, the main way kids can access tools like 3D printers is their families purchasing them, but we all know that 3D printers and other high-tech tools are pretty expensive.
For all these reasons, MakerKids was created. As I mentioned, it's one of the first and only makerspaces for kids in the world. We work with kids ages 3 and up, and like Montessori, we do self-directed learning and discovery as well as collaborative learning, but instead of math, language, and art materials, we're using robotics, coding and Minecraft. So I really feel like it's Montessori for the 21st century. Our makerspace has a possibility wall with all different types of tools and materials that kids can use freely. We think about our instructors more as mentors who are there to support the children and make sure they're safe rather than telling them what to do or doing things for them.
We do this through our main offerings. We have after-school programs, like robotics and inventions, which are 10 weeks in length, themed workshop summer camps, birthday parties for both kids and adults. We've also started to do more and more external events — like 3D printing at the Textile Museum of Canada — which has allowed us to reach new audiences and also to support our pay-what-you-can programs.
Our Recipe
This is our recipe. The first element is a dedicated space where kids know that they can be safe, be creative, and have autonomy, and we've seen that they really take ownership and do things like tell other kids to clean up after themselves or to act more safely with tools, which I haven't seen elsewhere. Secondly, we have real tools — we give kids the ability to use Arduino microcontrollers which are the same ones used by industry professionals, for example. If kids ask us if we can do something for them because they're too scared or they're not sure how, we generally say no and help them learn to do it safely and become more comfortable with it, or find another way to achieve their goals. Thirdly, process over product — we emphasize that it's okay to fail, and we value experiential learning (learning by doing), so instead of telling them step-by-step instructions, we advise them to try and figure out how to do it themselves, ask other kids, or research it online.
We choose to celebrate the fact that they're making, not just taking home some shiny object that they've made. It's also interest-driven, so kids choose what projects or challenges they're going to do. We find that if we tell them what to do or how to do it, they quickly lose interest. Another principle is kids teaching kids — kids are really smart these days and they're the experts at things like Minecraft, so we have kids teaching classes and we also encourage them to teach each other within classes and to share their knowledge and what they've learned. Kids also teach us — they know more about Minecraft, for example, than we do and we encourage them to share this online so other people can benefit from their knowledge. Another element is exhibition — each program has a presentation to the parents, which kids get really excited about. It helps them to organize their thoughts knowing that at the end of their project, they'll have to explain it to someone else. And finally community — we connect to the Toronto community, the Toronto maker community, and the global maker community through events like Maker Faire Rome and through participation in online discussions.
Results
In terms of results, I think this tweet from a mother sums it up really nicely — she said, "Going to MakerKids this afternoon and my daughter says 'I'm more excited than Christmas — I've been looking forward to this my whole life.'" And after they came, she tweeted, "And it was as great as she imagined it would be — thanks again." I think this is one of the reasons that we've had thousands of kids go through our program since we opened our space a year and a half ago, have had regulars coming in from as far as an hour to two hours drive, and people emailing from all over the world asking if they can have programs in their cities. We've been featured by a number of press outlets.
Another great result is good behavior — a number of kids come to us whose parents tell us that they have severe behavioral problems and they act like little devils in school, but what we see is them acting like little angels. I think this is because we treat them like adults and they live up to that. Secondly, they're having fun and are finally in the presence of seriously dangerous tools, so they know if they goof off they could hurt themselves. Something I'm really proud of is that we started to get more and more kids coming to us who have mental health diagnoses such as Aspergers, autism, ADHD, and severe anxiety, and parents are telling us that they're using MakerKids as a form of art therapy for their kids — the kids act and feel better both during and after the programs. I think this is because making allows you to express yourself, to feel power, to develop social skills when in a community, and to be recognized for creativity in an area that's not traditionally recognized (arts, writing, and music are the traditional forms of creativity that are recognized).
And yet another exciting result is that kids are making awesome stuff. For example, a kid created a 3D-printed bow tie with LEDs for his dad for Father's Day. A 10-year-old created an underwater robot. Imagine if kids under 10 are able to create this now, what they'll be able to create later on in life. And if they're able to see themselves as creators rather than consumers, what sort of impact they will be able to have in the world.
I love the Steve Jobs quote which says:
When you grow up you tend to get told the world is the way it is and your life is just to live your life inside the world, try not to bash into the walls too much, try to have a nice family, have fun, and save a little money – but that's a very limited life. Life can be much broader once you discover one simple fact – everything around you that you call life was made up by people that are no smarter than you, and you can change it, you can influence it, you could build your own things that other people can use. … Once you learn that, you'll never be the same again.
Imagine what type of impact people can have if they learn this as kids.
Now we are developing activity modules for companies like Intel and 3D Systems, and we envision a future where we have chapters of MakerKids all around the world, so if you're interested in having kids making activities in your city, please shoot me an email at [email protected]
How Maker Kids is Developing Smart Kids Now
TVO
MakerKids is a makerspace for kids in Toronto – a workshop space that kids can call their own, where they learn about and do high-tech making activities such as robotics, coding and Minecraft
Why are spaces like MakerKids good for children's education?
Our weekly robotics programs are a good example. This program allows kids to come in and work on whatever projects they like using any of the tools and materials that they see in our shop.
On a typical Tuesday or Friday afternoon, you can see kids ages 7 and up creating everything from remote-control robot rovers, to music speakers.
You might be thinking that these kids must be extraordinarily gifted – and indeed, a few of them are – but most are not. When given the ability to develop ideas for inventions and then make them right away using real tools, kids are able to rise to the challenge and develop these amazing creations.
They are given the freedom to be creative and to develop their own methods rather than following step-by-step instructions – but we also emphasize the fact that it's okay to fail, and the process is more important than taking home a shiny finished product.
This 'recipe' of various philosophies and elements often leads to kids having so much fun that they don't even realize that they are learning, instead seeing the experience as fun or play.
They're able to have these 'flow' experiences that often lead to them learning and creating much more than they could have ever imagined in such a short time frame. In addition to emerging with a robot or other creation, they emerge with a heightened sense of self-confidence and leadership ability.
Many parents tell us when they first come to MakerKids that their kids behave very badly at school and we should expect to see the same – but often we don't see any bad behavior from them at all and even sometimes see these same kids become a great help to our instructors.
One of our most popular programs is our Minecraft program, where kids get to play Minecraft and learn new skills related to it, such as creating skins, setting up servers, and more.
I'm sure you've heard of this popular video game that is sweeping the nation (and the world). Many parents have told me that while they don't usually allow their kids to play any computer or video games, they do allow them to play Minecraft.
Why? Minecraft has a number of educational benefits. Many become so engaged with what they are doing while playing Minecraft that they lower certain social barriers that they may normally have, leading them to talk to other kids or adults freely where they normally may have been too shy.
One parent told us that her son had apraxia of speech (difficulty speaking; he also had a limited vocabulary) but through playing Minecraft, watching Youtube tutorials about it, and coming to our Minecraft drop-in programs, he improved his speech and within a year developed an above-average range of vocabulary for his age.
We also use Minecraft as a gateway to bring kids from the alluring virtual world back to the physical world and the people around them, e.g. through teaching them about electronics concepts via Minecraft.
We were recently invited to speak about our project and philosophies at Maker Faire Rome.
Hope to see you at our makerspace one of these days!
Call us at 1-844-MAKERKIDS to book your camp, program or party today!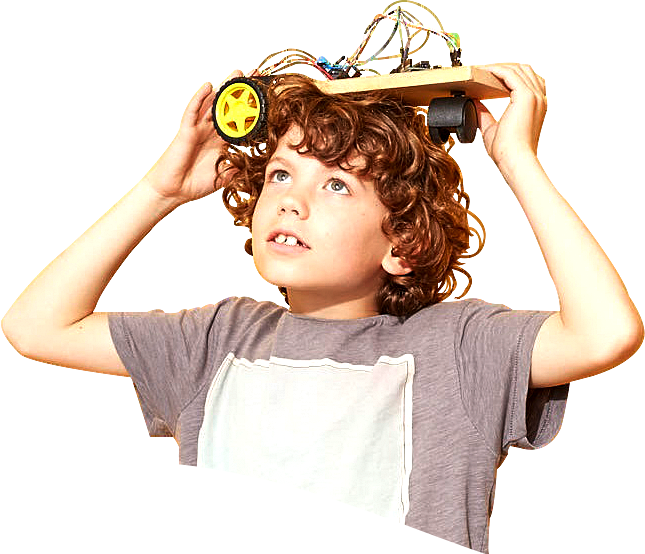 We have programs in Toronto and are coming to more cities soon
Toronto Minecraft Programs & Camps
Toronto Coding Programs & Camps
Toronto Robotics Programs & Camps