When you first think about computer programming you may assume that it's just something for adults. But, the truth is that people of all ages can learn computer programming, even kids. 
Programming for kids can be something fun and educational. Kids can learn valuable skills in programming that may lead them to a career down the road. They can also learn problem-solving skills and how to communicate with others.
If you're new to the computer programming scene, we've got you covered.
In this article you will learn:
What is computer programming?
What is the best programming language for a child to learn?
How do I teach my child programming?
What is the best age to learn programming?
What is computer programming?
Computer programming is basically giving the computer a set of instructions to follow. These instructions are used to solve a problem and function. Computer programming helps to make long and repetitive tasks easier. 
When kids learn to program, they are learning how to communicate with computers. This is a skill that can carry them far in life if they continue on the path.
What is the best programming language for a child to learn?
This is a tough one because there are so many programming languages out there. The key is to find one that's simple enough for your child to learn and one that won't get them frustrated. If they get frustrated, they're more likely to quit.
One favorite is Java. Java is easy to use and has many open source libraries to choose from. Many kids like to learn Java because it can help them build on Minecraft. At MakerKids, we have an entire course dedicated to Minecraft and learning to code with it. Kids can learn how to use Java to solve problems in the game. Once they master this skill, they'll find how easy it is to customize the game.
Swift is another good programming language for kids who are just learning computer programming. It requires minimal coding and uses a drag-and-drop code instead. This one is typically recommended for kids over 10.
When it comes to programming for kids, C++ is another one to consider. It's a great way for kids to learn how to create applications for windows and is considered the foundation for most programming languages. C++ is versatile so it can also help to develop apps on many different platforms.
Scratch is another good programming language to start kids off with. Scratch uses a drag-and-drop interface with colorful blocks. This makes it easy for kids who are just starting out with coding. Kids learn how to program and share interactive media like animation, stories, and games. Scratch is designed specifically for kids ages 8-16, but people of all ages can create with Scratch. There is also a Scratch Jr. for children ages 5-7.
How do I teach my child programming?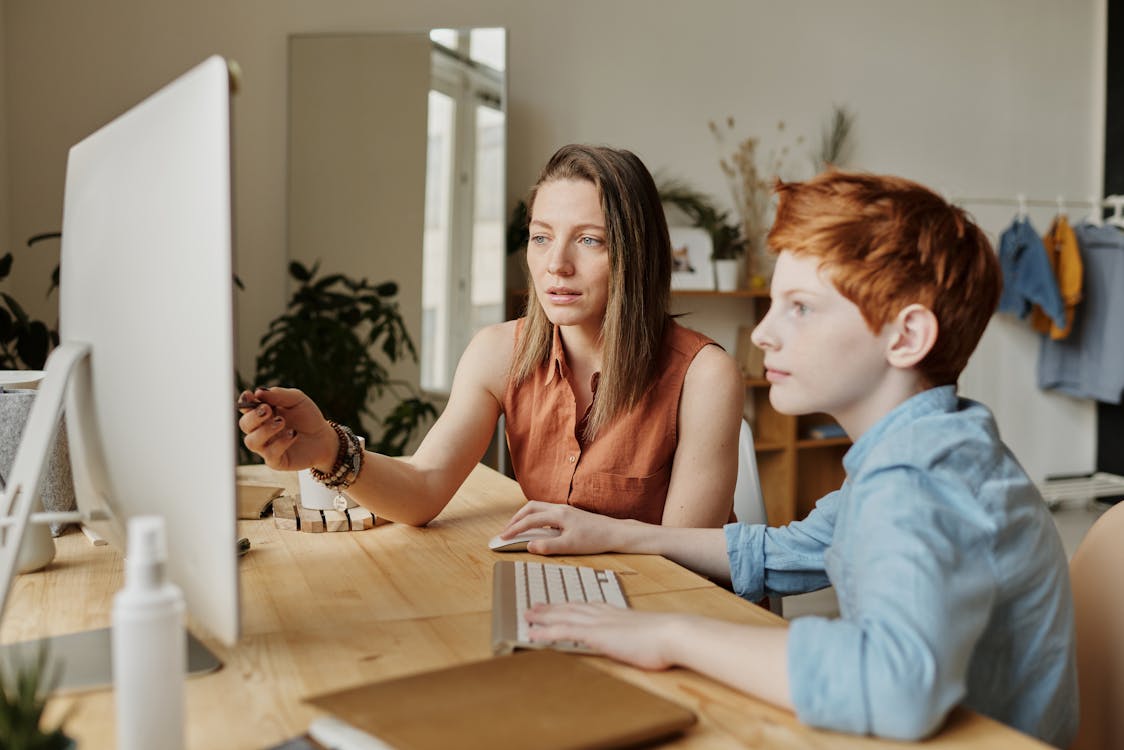 You can teach programming to kids in a variety of ways. There are many free apps and websites available that can give you introductory courses. This can expose kids to coding and let them see if it's something they're interested in before you spend a lot of money on classes.
There are also many after-school programs and virtual programs that teach coding. At MakerKids, we offer virtual classes in coding that teach kids everything they need to know. There is always a live instructor to answer questions and guide the class.
While free apps and websites can be helpful, there is nothing better than having an experienced teacher available to answer questions. Unless you know a lot about computer programming, you won't be able to teach your child. Having someone who is experienced can assure that your child will get the best lesson possible.
What is the best age to learn programming?
This answer can vary depending on the child. Some kids are ready at age 5, while others are ready at age 6. For the younger crowd, it's best to choose coding languages with visual learning tools. This makes it easier for them to grasp.
As kids get older, you can introduce programming for kids that involves script and/or text. They'll be able to grasp these concepts better and begin to fully understand programming languages.
The Takeaway
When it comes to programming for kids, you want to introduce them to a language that's easy for them to understand. This will give them a greater chance of sticking with it. While you can choose many self-guided online programs, those who have live instructors are often best for kids just starting out. This way they'll get their questions answered and can learn from experienced instructors.
For more information on coding classes at MakerKids, visit us online or call us at 1-844-MAKERKIDS.