Robotics
Do you like building things and understanding how they work? Have you ever wanted to make your own robot?
In our Robotics programs, kids will design, plan, program, and build an electronic invention while using an Arduino and learning how to code. Kids will understand how everyday objects around they work will have the opportunity to bring their ideas to life. An Arduino is a micro-controller, a small computer used as the brain of the robot which can be programmed to control the way buttons, motors, switches, sensors, lights, and other electronic parts interact. They are used by industry professionals and were used to prototype the Square Reader!
We have robotics after school programs and camps for year long learning.
MakerKids Experience and Skillset

Empower the leaders of tomorrow with the skills and mindsets to change the world.

Project-Based Learning
Learn how to talk tech! Technology is all around us and, in our Robotics program, kids learn how to code and design their own robots. Through a hands-on experience, kids will master robotics with the use of Arduinos, a microcontroller (did you know it was used to prototype the Square Reader?). Kids will code their inventions with Ardublock.
Kids learn in an open-ended, exploratory way about how to do computer programming (AKA coding) and use electronics such as switches and sensors. These skills are highly transferable, and allow kids to learn coding in a really fun way where they get to see the results of the code that they have written right next to them in physical form (e.g. lights blinking).
Kids have made all sorts of projects with Arduino at MakerKids! Some prime examples are a nightlight (where an LED light turns on when it gets dark), digital music with a buzzer (you could program it to sing Happy Birthday, for example), and more. They will be able to use these skills to make new projects in the future with their Arduino, which they will get to take home.
21st Century Skills
Students work in teams to solve problems as well as create their own designs and inventions. Combining on- and off-screen work, Robotics: Make Sound will advance skills in communication, leadership, design and critical thinking.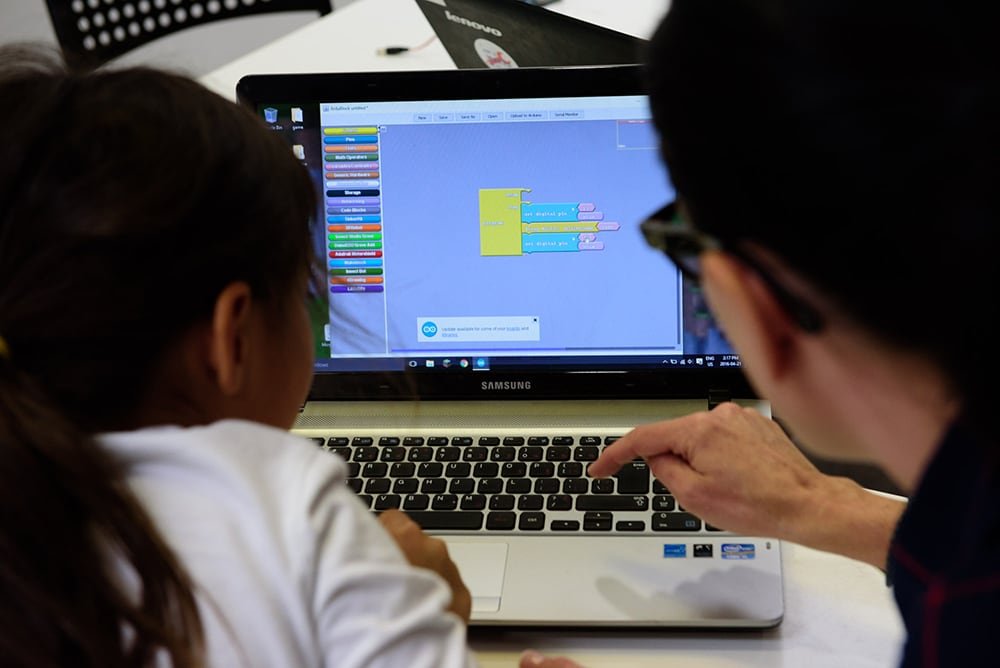 Program Info
Ages 8-12
2 hours/week
10 weeks
Multiple start dates
All experience levels welcome
Hardware + Software
Arduino
Ardublock
Breadboards
LEDs, sensors, and more
What will kids learn?
At the end of the program, kids will learn technical and soft skills, including: robotics, design, engineering, coding, problem solving and leadership.
What do kids make?
Kids will bring their invention to life. Projects include light shows, rovers and night lights. Learn something awesome and make new friends!
Great Instructors
Our instructors are highly trained and come from various backgrounds, including engineering, theatre, music and design. They have worked at City of Toronto, P&G and YMCA. CEO, Jennifer Turliuk, attended the Graduate Studies Program at NASA's Singularity University and business school at Queen's University.
Space to Experiment
Our makerspace is a safe space for kids to experiment. Our instructors are first aid trained, police checked, go through rigorous training and assist lead instructors before teaching. Our mentors are trained to work with different learning abilities and behavioural issues. Kids work in groups, design on and offscreen and have time for games/park.
My boys flourish here and look forward to it every week. They show social skills improvement and more confidence since coming to MakerKids and finding their "tribe." Happy children make me a happy and grateful mom. Thanks MakerKids for creating programs for my quirky, "outside the box thinking" boys.
Tammy
I love that the kids take the lead on their projects and learn how to achieve their goals Absolutely the kind of things my kids are interested in exploring in a guided setting!
This MakerKids Graduate learned key sound, robotics and design concepts and now runs his own business fixing stereo equipment in his neighbourhood!
Sample Class
4:00-4:10

Welcome to MakerKids and ice breakers
4:10-4:50
Robotics Discovery
Instructors will guide students through key robotics functions while kids try it themselves and collaborate
4:50-5:00
Break
Kids can have their snacks, play games and explore our Inspiration Station
5:00-5:40
Let's get Making!
Kids will experiment and create their own project and invention from the lesson
5:40-5:45
Clean up
5:45-5:55
Show and tell
See the work the kids have created!
Tuition Includes
All materials for activities
Laptops to use
Experienced instructors
One-on-one coaching
Kids may take home their digital projects
Badge of completion
Love Robotics? Check out all our Robotics programs!
Robotics: Make it Light up
Kids will design, plan, program, and build an electronic invention while using an Arduino and learning how to code. Projects include creating a parent alarm, environmental nightlight and light shows.
Robotics: Make Sound
Students in our kids robotics program will have a hands-on experience creating their own dynamic robots with sound. Students will play with bells, buzzers, speakers and mics to generate and modify sound and electric waves. They can create something as simple as a doorbell or morse code over a telephone wire to sounds of a full orchestra.
Robotics: Make it Move
Ready to get moving? Students in our kids robotics program will have a hands-on experience creating their own dynamic robots with movement. Kids can create cars, moving secret doors, timed lockboxes and more.
21st Century Skills
In our kids' STEM programs, your child will learn a wide variety of skills, not just tech skills. Social and emotional competencies: A) confidence B) social skills and C) engagement. Technical skills: A) coding, B) design, and C) electronics.
Advanced Curriculum
We've developed curriculum for Intel and trained staff from the Toronto Public Library and various school boards. Programs are designed and created by industry professionals and makers.
Real Results
MakerKids graduates have started businesses, led classes, been featured on national TV and have shown academic and social improvement in and outside of school.
Mental Health Improvements
Parents and schools have reported improvements in mental health, behaviour and learning development. Students have overcome issues like aggression, stress and anxiety. Your child can find their tribe at MakerKids!
Experience
MakerKids was named "Best Kids' Workshops" by Toronto Life Magazine. We run programs at schools throughout the GTA, such as Toronto French School, Kingsway College, and more.
FAQs
Does my child need experience coding or with Arduinos?
Our classes are open to new and experienced kids of all backgrounds. With our small ratio of 1 instructor for every 8 kids, our instructors will be able to work with each child's individual needs. We go over robotics fundamentals and may hold breakout sessions for beginners and advanced students.
Do we have to bring our own laptop and supplies?
We will provide all the materials needed for the program and activities, which may include laptops, Arduinos, mics, wires and more. Kids may bring their own laptops.
What will my kid make?
Kids will create robotic inventions using sound. Kids are in charge of their own projects, from start to finish, and can design their own creations. Some past robotics projections include: cat alarms, voice records and sound machines that can play a multitude of notes! There are no physical take-aways in the program, as materials are reused and re-purposed for future students. Kids will leave with a comprehensive understanding of robotics, design and electronics and the actual code used to program the Arduinos.