Kids have the opportunity to try so many new things these days with STEM being one of them. So many fun activities fall under the STEM (Science, technology, engineering, mathematics) umbrella that children can truly experience so much. 
One of those exciting areas is coding. Kids can learn to code games, websites, and more. They can learn how computers work from the inside, which is exciting for many of them. These types of skills are learned in STEM classes. This is one of the many reasons STEM classes are beneficial for kids. At MakerKids, they can learn about coding, robotics, and even the inner workings of Minecraft. This holiday season, why not give them the best gift you can by introducing them to the world of STEM and all of its possibilities?
If you're not exactly sure what each class entails, keep on reading as we open your mind to exciting new adventures in STEM.
Coding for Kids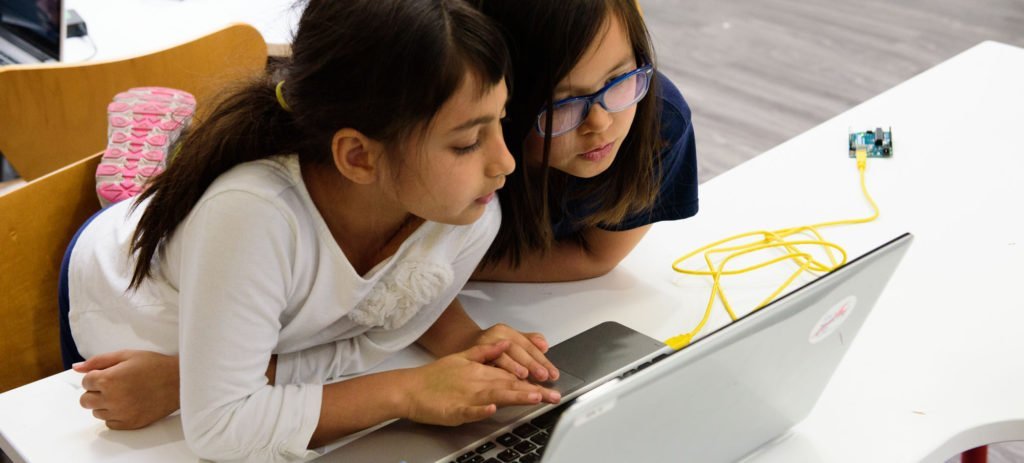 Our beginner coding classes teach kids how to code their own game while exploring fun topics like character development, animation, storyboarding, and more. As kids get more comfortable, they can challenge themselves to the intermediate level where they continue to learn about coding but get the bonus of programs controlling characters on a screen rather than alphanumeric text. There are also advanced classes where kids can learn how to design their own websites and about the Python coding language that is widely used.
Our coding classes are grouped for kids in grades 3-5 and grades 6-8. All classes have a 1:5 mentor to student ratio. Since all programs employ project-based learning, having small classes helps kids get the individual attention they need to ask questions and be successful.
Teaching kids to code at an early age will only help them get a leg up as they get older. They can get an advantage over their peers as they prepare for a competitive career world in the technology field. Coding classes also help to build resilience, confidence, and problem-solving skills.
Coding Classes Offer:
Robotics for Kids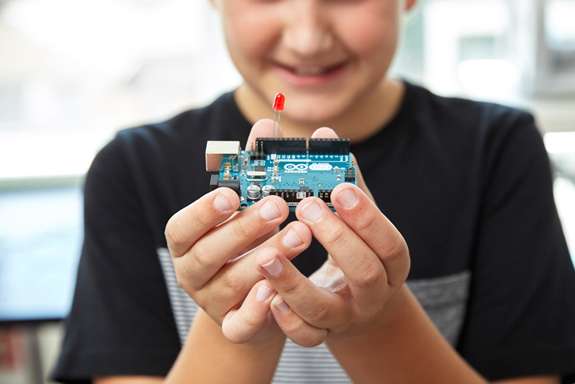 In our robotics classes, if kids can dream it, they can create it. They learn how to use online robotics simulator technology to do things like wire circuits, make virtual lights light up, and so much more.
Robotics classes teach kids how to plan and design their projects while using a virtual robotics microcontroller. These microcontrollers are the same that industry professionals use, so they are really getting a leg up on the competition.
The amazing thing about these classes is that kids can see the results of their work before their eyes. They not only exercise their creativity by developing a project but realize they can make things that other people can use. They can make everything from nightlights to motion-activated alarms, and more!
We offer a beginner robotics class where kids learn everything they need to know to code their own projects. Basic circuitry and programming concepts are also introduced to give students a good foundation for more complex ideas that come down the road.
Once they master this level, they move on to the intermediate classes where more fundamental robotic programming structures are covered. After they get familiar with things like covering conditional statements and more abstract coding tools, they move through component after component, teaching kids why they do and how they work. Eventually, they present projects. Kids also learn skills like teamwork, writing, electronics, and math.
Robotics classes are grouped similarly to coding classes with kids in grades 3-5 and 6-8. All classes also have a 1:5 mentor to student ratio.
Robotics Classes Offer:
Minecraft for Kids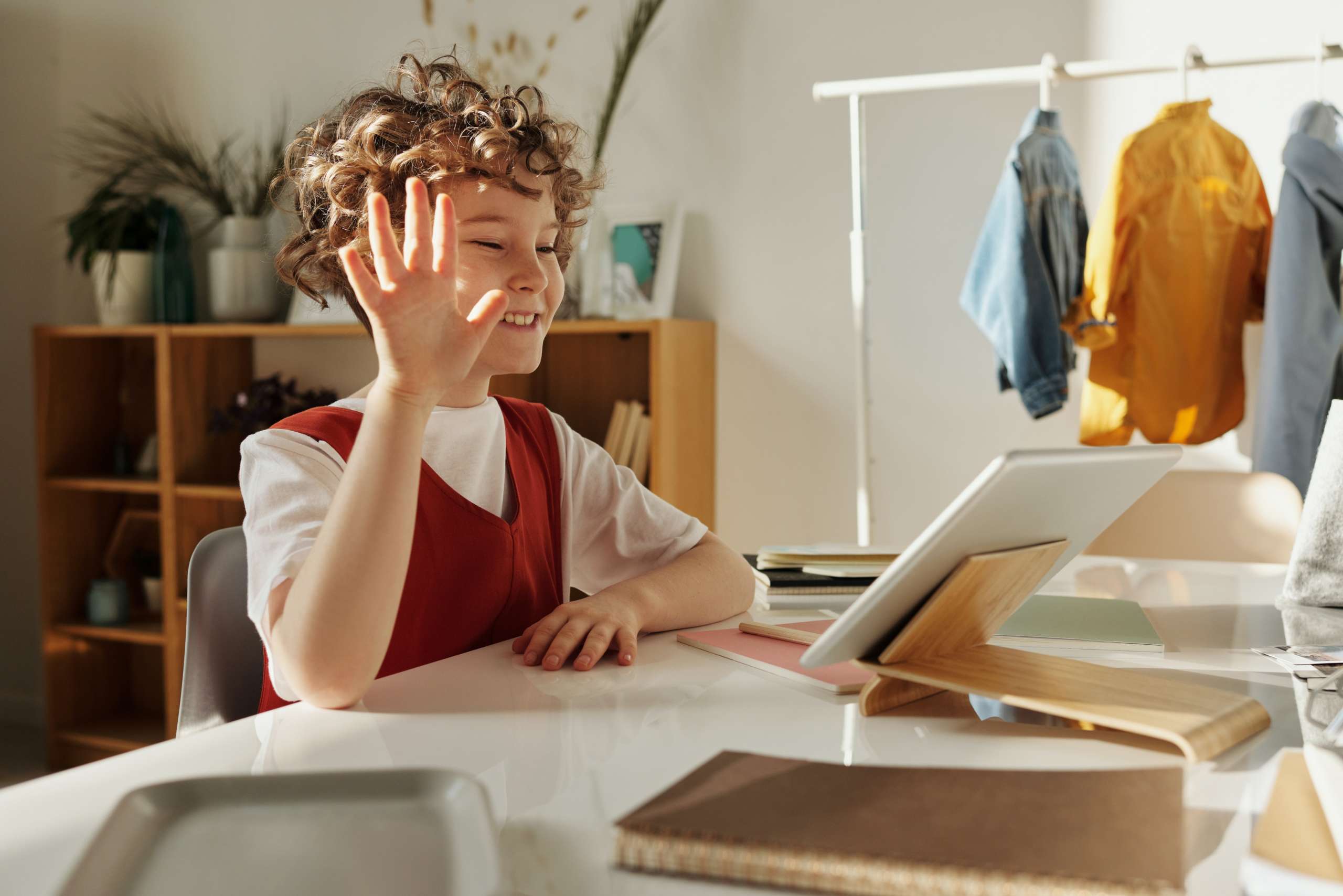 Our Minecraft uses the popular game as a tool to help kids build transferable skills like coding, electronics, servers, 3D design, and more. Kids learn how computers and servers work as well as core computer programming concepts. Through Minecraft, kids can learn so much about the world of STEM. They do all of this while working with peers who have the same interests.
We offer a Mini Makers Minecraft class for kids in grades 1-2. Kids learn invaluable computer skills while being introduced to more advanced concepts like remote services and running commands. The beginner classes teach the basics while building on the skills that kids already know through playing Minecraft.
Our intermediate classes teach kids how to plan out large-scale projects as their mentors guide them along and teach new skills. These skills include circuit logic using Redstone, coding elements using command blocks, and 3D design using geometry and math. Once kids reach the advanced level, they learn there are limits on changes that can be made to the appearance, shape, or logic of things in Minecraft. Through the Minecraft courses, kids also develop social skills, patience, and confidence from working on their projects.
Besides the Mini Makers classes, Minecraft classes are also offered for kids in grades 3-5 and 6-8 with the same teacher-to-student ratio as the other classes.
Minecraft Classes Offer:
Mini Makers
Just like the Mini Makers Minecraft classes, there are also Mini Makers classes in coding and robotics for kids in grades 1-2. They learn the basics at their level so that they can master those and advance as they get older. They will design their own video games, create robotic inventions, do design and experimentation, and more. Younger children also get the advantage of having teacher-to-student ratios of 1:5 to help them in their classes.
Mini Maker Classes Offer:
Idea Incubator Classes
At MakerKids we also offer Idea Incubator classes. These classes allow kids to develop projects in coding, robotics, and Minecraft. They rotate among the three topics so that they get to try everything. This is available for kids in grades 3-5 and 6-8. For the beginner class, there is no experience required. But for the advanced class, some coding, robotics, and Minecraft Java Edition experience are required.
Idea Incubator Classes Offer:
Give the Gift That Keeps on Giving
With so much to offer, why not give the gift of STEM classes this holiday season? Kids can learn so much that can open up new doors to endless opportunities. Take advantage of our holiday special where you can get up to 25% off holiday packages. Discover why so many kids are getting excited about STEM at MakerKids!