Weekday
Camps
Weekdays:
Monday-Friday (except holidays)
Start anytime!

Hours:
1-3PM
The perfect amount of time for your child to stay engaged with learning.

Two Age
Groups
Grades 3-5: Protons
Grades 6-8: Atoms

Daily Learning and
Socialization Time
MakerKids Virtual Camps are a great way for kids to be engaged with learning, and to socialize with other like-minded kids.

1:8 Ratio
1:8 Maker-Mentor to Student ratio, or better. All instructors are police-checked, first-aid trained, triple-reference checked, and highly trained.
Join our Kids Virtual Camps: Minecraft
Reserve your child's spot in our leading-edge virtual camps
At MakerKids we provide ongoing virtual camps that students can join from the comfort of home, at a time that works for you.
Are you looking for the perfect activity for your son or daughter?
Our live online STEM camps will quickly have them creating fun projects within a group of their peers at whatever level they are currently at. Our live instructors make sure that they get the help they need at exactly the right time.
Interested in online kids' STEM camps and learning? Your child will learn the foundations of STEM (Science, Technology, Engineering and Mathematics), while building key social and change-making skills. Kids will create their own inventions in our daily camps. Camps are 2 hour sessions once a day (5 days a week). Sign up for the daily timeslot of your choice and pay on a weekly basis.
Timeslots for our online STEM camps are limited, so register ASAP to avoid disappointment.
Live Instructors
Our online environment lets your child interact with the instructor much as they would in person. Video conferencing and screen-sharing capabilities allow teachers to work with participants in a group as well as individually.
Individualized Approach
We recognize that each maker learns best at their own pace. Maker-Mentors offer individual support and help with project design and debugging to each maker individually. The video conferencing technology we use allows instructors to view each maker's work as needed.
Small Group Sizes
Groups have a maximum of 5 students per teacher.
Whether you call it digital, virtual, remote, online, learn from home, or videoconference – participants will learn together in small groups from live teachers!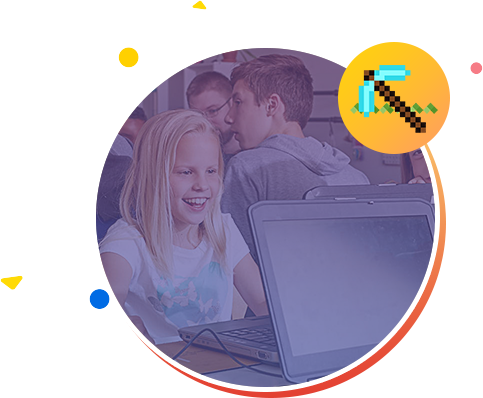 Minecraft Camps
In our Minecraft programs, kids learn how to make Minecraft even more awesome, how computers and servers work, and core computer programming concepts while collaborating with kids equally excited about Minecraft.
We use the incredibly popular game Minecraft as a medium to help kids build transferable skills such as coding, electronics, 3D design, servers, and more. We leverage kids' interest in Minecraft as a gateway to introduce them to other STEM topics such as Robotics and Coding. Minecraft is also a great medium for teaching positive netizen skills and communication skills. Kids build amazing digital creations.
Skills Learned: Social Skills, Patience, Communication, Teamwork, Problem-Solving, Coding, 3D Design
Minecraft is an open world sandbox similar to virtual lego. In addition to creative design players also have access to "redstone" to build and power electronic devices within the game and a command line to run a variety of simple to complex commands that affect their world. At MakerKids we also approach the game external as a programmer covering topics such as customizing resources, server administration, and adding on to the game's code itself with plugins and mods.
Redstone is Minecraft's version of electricity. It contains inputs (that also serve as power sources), outputs, and wiring, that allow the creation of circuits, automated machines and devices, and can be combined into even more complex components like clocks, logic gates, and memory storage.
Redstone Beginner
The first step in using redstone is learning about signal propagation.  With a few simple inputs and outputs (like buttons and redstone lamps) kids experiment and learn about the properties of redstone especially how its limited flow through blocks outside of redstone material.  By the end of the introduction they are perfectly capable of turning things on and off from a distance and ready to dive into some of the more complex inputs that don't involve players manually flipping a switch.
Redstone Intermediate
Before getting into fancier circuits students learn how to hide their wiring which makes their creations that much more elegant.  This requires a concept known as signal inverting (i.e. a NOT logic gate) and unlocks propagating signals straight up and down. With most of redstone's fundamental properties out of the way, various inputs and outputs (and the quirks of each) are covered one by one.  Components such as analog light sensors, block moving pistons, and item transporting hoppers and droppers, are introduced along with analysis devices such as comparators and some signal theory like monostable circuits necessary to use them to their full potential. Before moving on, a game mechanic known as "block updates" stemming from how Minecraft's code works is experimented with which allows for almost anything to act as an input.  Kids are also introduced to redstone clocks that opens up a whole new type of oscillating signal type.
Redstone Advanced
With most basic machine types and the underlying theory under their belts, logic gates and other fundamental microchip logical units are formally introduced.  Mimicking actual real world computer components like transistors, the curriculum progresses through examples of constructing these (e.g. OR, AND, XOR, t-flip-flops, latches).  In practice this allows kids to build systems that can take multiple inputs and control multiple outputs. Professional Minecraft Youtubers have used redstone and command blocks to build everything from calculators in a few days to fully functional Gameboy emulators which take years to construct.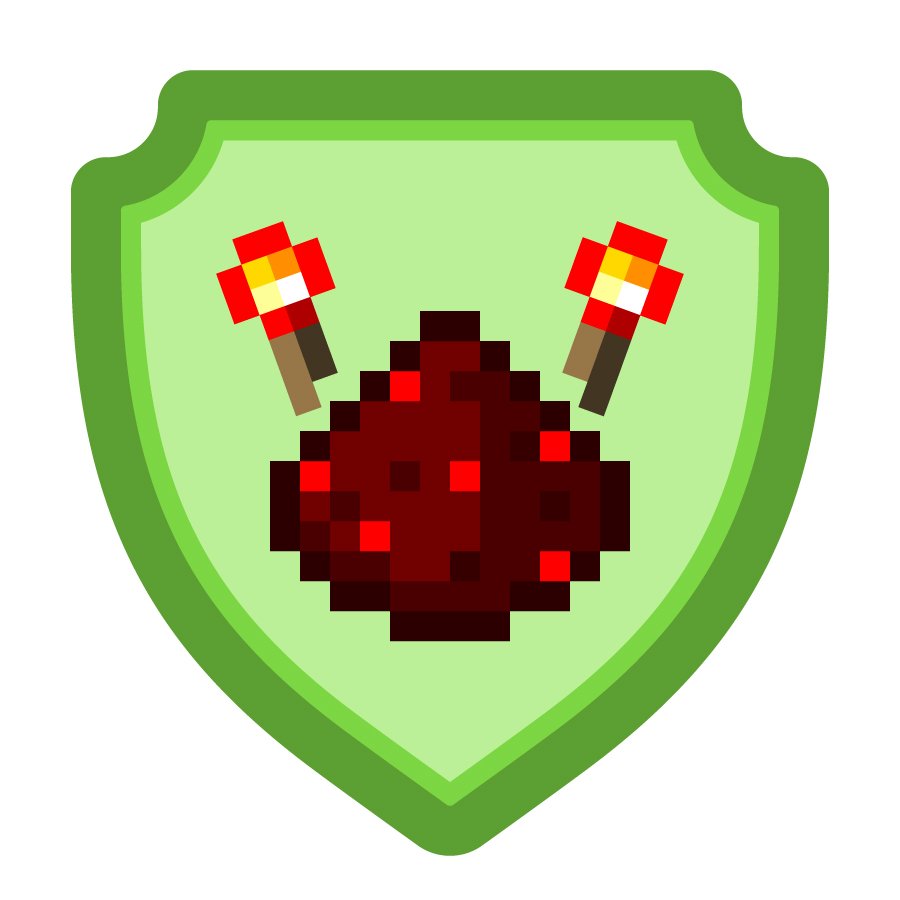 Redstone Experts
Redstone alone (without command blocks that is) can still be used to make incredible machines made even more impressive considering they are all done "mechanically."  Whether harnessing the quirks of Minecraft's block rules to hide structures underground before physically pushing them into place, abusing the internal game loops to create flying engines, or continuing on with logic gates to create the equivalent of redstone integrated circuits, some redstone engineers consider using command blocks the easy way out.
MakerKids was a great experience for my kids this summer. One of my sons did 4 different weeks and each was a different program. Jacob loved Makerkids and learned a great deal about electronics and computer programming. These programs are the way if the future. Jacob has expressed interest in working at Makerkids one day. It really was a very positive experience for him as well as our younger son who joined him for one of the weeks. I recommend MakerKids to anyone whose kids want to try something different, it is just great!
Accreditations, Awards & Recognitions

Check out some of MakerKids' recent awards!
Reserve your child's spot in our leading-edge virtual camps
1. Check out our calendar for classes and enroll in the daily timeslot you want.
2. This will prompt you to add a plan to your cart
3. To add your child or children, create an account. In your profile, scroll down on the right and you can add dependents.
Space is limited. Sign up for a camp today to reserve your child's spot!
Technical Requirements
Basic Requirements:
A internet connection

Working Microphone and Speakers – We recommend a set of headphones or headset (which has been tested and is working) with an integrated microphone so that you can hear us and we can hear you as clearly as possible. If you do not have headphones or a headset, please ensure your child is in a quiet place – as long as they have speakers and a microphone and are in a quiet place it will be fine. Please reduce background noise or move to a quiet area for the benefit of all kids in the class. 

Optional: Webcam – Either external or built-in (many laptops have an integrated camera).

Laptop or desktop (not tablet or phone)

Keyboard and mouse

Chrome browser
Detailed System Requirements:
Broadband internet connection (ideally with at least 1.2Mbps download and 600Kbps upload speeds)

For Coding Classes: 4GB of RAM or more (<4GB RAM may work but may be unstable in some situations)

For Minecraft and Idea Incubator classes ONLY

Minecraft system requirements (

source

) 

Minecraft: PC (Windows 7 or later) or Mac (OSX 10.7 or later) computer (not a Chromebook)

CPU: Intel Core i3-3210 3.2 GHz / AMD A8-7600 APU 3.1 GHz or equivalent (older or less powerful CPUs may work but may be unstable in some situations)

RAM: 4GB or more (<4GB RAM may work but may be unstable in some situations)

Minecraft Java Edition Launcher Installed 

A Minecraft Java Edition Account Purchased
Call us at 1-844-MAKERKIDS to book your virtual program today!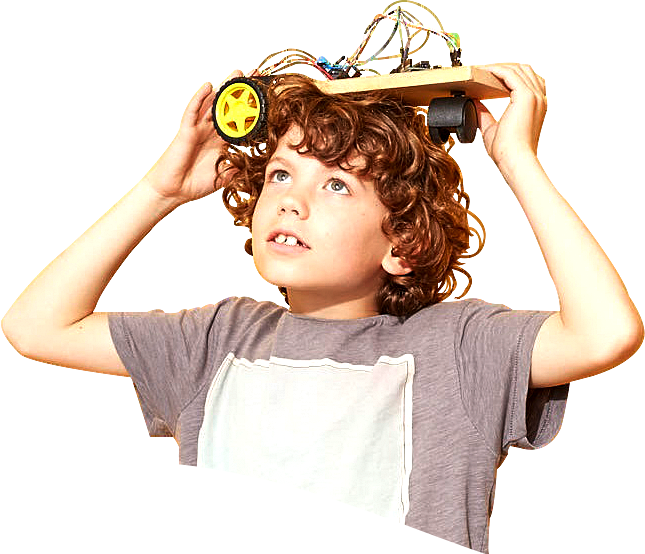 Your child can learn leading STEM skills from home
Remote Minecraft Programs & Camps Virtual Coding Programs & Camps Online Robotics Programs & Camps