[et_pb_section admin_label="section" transparent_background="off" allow_player_pause="off" inner_shadow="off" parallax="off" parallax_method="on" custom_padding="54px|0px|35px|0px" make_fullwidth="off" use_custom_width="off" width_unit="off" custom_width_px="1080px" custom_width_percent="80%" make_equal="off" use_custom_gutter="off" fullwidth="off" specialty="off" disabled="off"][et_pb_row admin_label="row" make_fullwidth="off" use_custom_width="off" width_unit="off" custom_width_px="1080px" custom_width_percent="80%" use_custom_gutter="off" gutter_width="3″ allow_player_pause="off" parallax="off" parallax_method="on" make_equal="off" parallax_1="off" parallax_method_1="on" parallax_2="off" parallax_method_2="on" parallax_3="off" parallax_method_3="on" parallax_4="off" parallax_method_4="on" disabled="off"][et_pb_column type="4_4″][et_pb_text admin_label="Text" background_layout="light" text_orientation="left" use_border_color="off" border_style="solid" disabled="off" border_color="#ffffff"]
The world around us is changing and technology is playing an ever-increasing role, from the workspace, shopping, day-to-day tasks and, of course, the classroom. Classrooms today are already changing – just take a look around. Classrooms are adopting more apps, tablets and adaptive learning systems. Future classrooms won't just be about more technology; it is about making learning more customized and accessible.
There are tens of thousands of education apps available and millions of iPads in schools around the world. Educators are really taking to technology to enhance their classrooms and benefit their students. Some applications just simply make teaching easier, reducing the amount of administrative work, like online posting of assignments and grades, facilitating group work, cloud storage and communication.
How are classrooms changing?
Optimize engagement
Increase curiosity
Increase customization
Adapt learning styles
Take a look closer inside the future classroom:
Flexible Classroom Design
Lecture-style classrooms with rows of chairs facing the front will be phased out. This is currently not working in the education system. It doesn't allow for customized and interactive learning. In the future, desk space and classrooms will be tailored to the student's activity and be more ergonomic.
Standing desks
Workspaces that allow more mobility
Collaborative spaces

Private study areas
Interactive projectors and screens
Modular shelves and walls
Changing seating plans (or none at all)
Virtual reality as a Learning Tool
The use of virtual reality in classrooms will aid engagement and provide an immerse experience. Experiential activities have shown to improve recall and learning – and VR is one way to provide that! Kids who learn better with image or sound have a better opportunity to succeed. Kids can experience different landscapes for geology or even fly through the human body for biology. Augmented reality can also provide additional context and enrich the learning experience. VR also makes many resources more accessible to children no matter where they are and are for those schools with limited budgets.
Assignments for Different Learning Styles

Not all children learn the same – some learn through audio, experience or sound to name a few. Future curriculum and lesson plans will adapt to each child's style of learning. Kids may opt to submit an essay, a video or even a website. With the learning objects and key competencies required outlined, students submit their assignment in many methods. Schools, especially universities, are adopting online learning to deliver courses and workshops. Learning can take place anywhere and with much more flexibility. Courses can be customized and open a whole wide world of knowledge.

The integration of technology in our lives has pushed us to re-examine how we think and do things. Education is put under the microscope and our whole idea of education is reevaluated. What is success? What is performance? As learning and future classrooms become more personalized and accessible, there will be more opportunities for kids to shine and allow them to choose their focus areas. Classrooms can more easily suit children with learning disabilities, behavioural issues.
Technology will be a tool and conduit. We still need engaging teachers, facilitators and curriculum.
MakerKids
is always embracing the newest educational platforms and learning systems. Come stop by to see what we have in store and learn more. Here is
what to expect
at MakerKids.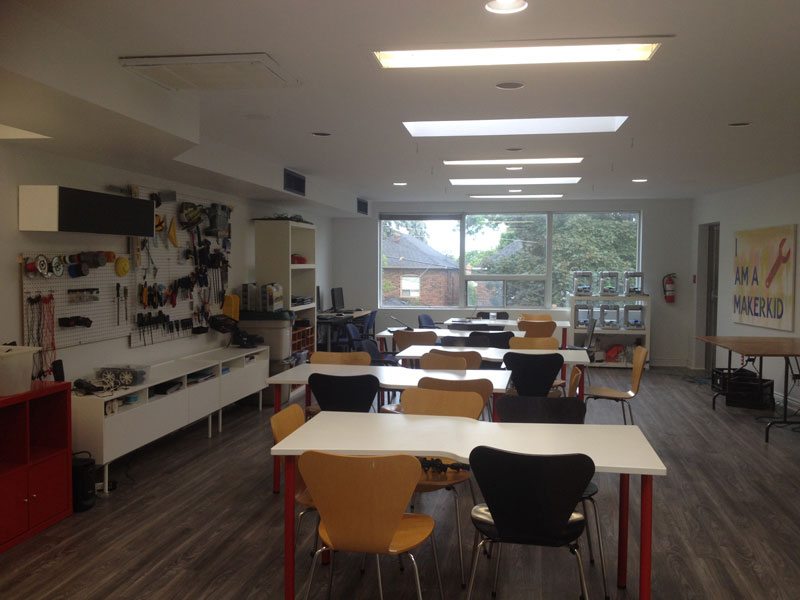 [/et_pb_text][/et_pb_column][/et_pb_row][/et_pb_section]