When children are young, they are receptive to learning new ideas. They also have a lot of free time on their hands! That gives them plenty of time to try new activities, like computer science.
Computer science is fun and teaches kids something at the same time. If kids can grasp the ideas when they're young, they can continue using their skills and expanding upon them. 
But, how do you do introduce a child to computer science? If you're unsure, we have you covered!
We're here to give you some ideas to get you going in the right direction. Let's get started.
How to Introduce a Child to Computer Science
Just like any other subject, kids need to be taught and supported. When first introduced, computer science can be challenging, but as kids get the hang of it, they'll learn that it is fun and rewarding.
Here are a few ways to introduce computer science to children.
Tech Toys and Games
Tech toys are becoming increasingly popular and can help to teach kids some basic concepts of the logic that goes into computer science. These types of toys can help to get kids interested in computer science. From building blocks to robotics, and other STEM kits, there are many options to get kids interested in computer science.
Coding Games
When it comes to how to introduce a child to computer science and programming, there are also coding games that can help to get the ball rolling. Kids can learn the basics and have fun at the same time. Platforms like Scratch help children to create animations, games, and stories that they can easily share.
Show Them Real-Life Uses of Computer Science in Action
Seeing is believing and what better way for kids to get introduced to and involved in computer science than seeing it in action. These are some examples:
Video games

Apps

Social networking

Cool computer graphics
Once your child sees that computer science is all around them, they may be more interested in getting involved and learning about it.
Online Classes
Classes that teach skills like coding are also a great way to introduce children to computer science. At MakerKids, we offer online classes that introduce kids to coding. Our classes are designed for kids in grades 3-5 and grades 6-8. In these classes, kids learn topics like:
Storyboarding

Character development

Animation

Beta Testing 

Environment and level design
There are also mini-maker classes for the younger ones! At MakerKids, it's never too early to teach kids about computer science and coding.
Our classes are conducted in a virtual setting with a mentor-to-student ratio of 1:5. This allows children to get the attention they need to learn, ask questions, and succeed. 
Contact Us for Classes at MakerKids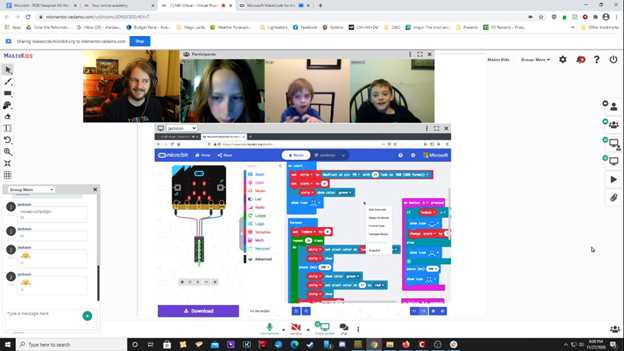 If you're ready to introduce your child to classes at MakerKids, contact us! We love to meet new students and show them the world of computer science. We offer classes in coding, robotics, and even Minecraft. There's something for every child! If you want to learn more about our classes, call us at 1-844-MAKERKIDS to schedule a free trial class.