85% of jobs that will exist in 2030 haven't been invented yet, according to a Dell study. And at least 60% of children entering grade school today will end up working in jobs that don't yet exist today.
How do we prepare kids for jobs that don't yet exist?
The future will be about pairing the artificial intelligence of computers with the cognitive, social and emotional capabilities of humans (OECD). When technology and AI take on a number of different jobs, we need to be able to do two things – to be able to program the technology, and to contribute the social and emotional skills that it lacks.
How can we develop the technical skills and social-emotional skills needed to succeed?
Technology growth is outpacing our brain growth, and because of this we've had a number of issues in society, such as being overwhelmed by technology, falling into being consumers of it, a rise in loneliness, mental health diagnoses, and so much more. So with so much technology around us, we need to figure out how we can shape it instead of just consuming it and being overwhelmed by it. Right now, job dissatisfaction is at an all time high, with over 80% of workers dissatisfied with their work. And this leads to a $300 billion productivity crisis annually. The new industrial revolution poses an opportunity for us to gain more work satisfaction. A good career sits at the intersection of what we like to do, what we're good at, what we can make money from, and what helps the world. And in order to find this fit, it's good to build confidence, skills and knowledge, and then finally opportunities – and to maximize those opportunities as best we can.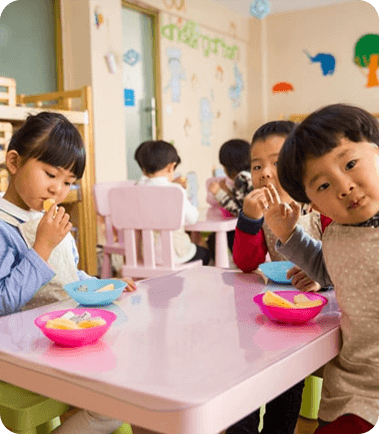 How can we increase human potential and become innovators that solve the world's most pressing problems? How do we innovate ourselves to keep up and create the future we desire?
Well if you want to change the world, you have to change yourself first.
Childhood is the most transformative stage of life. It's kind of like a golf swing, where if you make a small millimeter change at the outset of your swing, it can have a vast impact on the trajectory of where your shot ends up.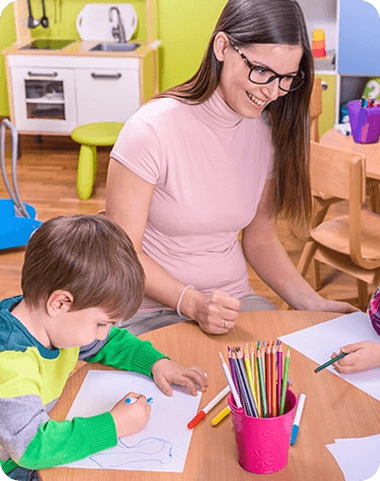 What are we preparing learners for?
We know we're preparing kids for work, of course, but we're also preparing them for well being, inner life, relating to others, contribution, creativity, innovation, and most importantly, change. Because for a lot of these kids, change is going to be the only constant throughout their lives. So how they develop certain skills will be less important than their ability to navigate change. And these skills are both what children are capable of, and what they need to be whole now and in their future.
The future is changing faster than ever before. And we need to have a future focused model to help us keep up with the exponential rate at which things are changing so our children are able to adapt, create and apply their knowledge to meet the critical changing needs of this society and create a better future for us all. And one of the key ways that they can do that is through STEAM. STEAM is science, technology, engineering, arts and math. And almost everything we interact with today involves elements of steam, like a washing machine, a washing machine is a robot. All the lights in our houses involve electronics, it's all around us.
What do Steve Jobs, Sergey Brin, Bill Gates and billionaire entrepreneur Sara Blakely have in common?
No, they didn't all have an Ivy League education. But they all had a deep exposure to STEAM when they were kids.
MakerKids equips kids with the skills and mindsets to be leaders, inventors, entrepreneurs and innovators. Kids code games, make robots light up, and more – and start to realize that they can make things that other people can use. Steve Jobs said "Everything around you that you call life was made up by people that were no smarter than you. And you can change it, you can influence it and you can build your own things that other people can use." Imagine how powerful it can be if someone learns this as a kid. MakerKids' teaching approach empowers children to be creators, not just consumers.
STEAM is a great chance to invest in your child's future career success, and expand their answers to the question "What do you want to be when you grow up?" Studies show that kids decide between ages seven and 12 whether or not they'll consider a career in STEM, or if they'll write it off entirely. The world has a shortage of STEAM trained workers, but STEAM careers earn double the national wage. And there's a really high employment rate of STEAM grads. Lots of STEAM careers are on the rise, like engineering, graphic design, and user experience.
CEOs say that the average school doesn't adequately prepare students for the careers that are out there today. So if this is the case, how are we going to prepare learners for the careers of tomorrow that don't exist yet? We need to prepare kids with the skills of the future, including 21st century skills, as well as technical skills and core concepts of coding, robotics and engineering – so that with our support and guidance, today's children can be prepared for anything. And even if they're not going into careers in STEAM, a familiarity with the concept of STEAM and the learning that comes about from it can be really useful in any career. Kids have so much fun when they're doing STEAM, they don't even know how much they're learning. When they're starting to code they can learn with block based coding, so they don't have to do any difficult typing. And then they can make things like video games. And when they get into making they get into flow, the maker mindset at play. They also love it if you make it fun with things like jokes and costumes. And all of this makes it so that kids come to love learning, which is so important considering how key lifelong learning is today. And kids can also work in groups together and form lifelong friendships around projects.
STEAM helps kids develop the skills and mindsets to become innovators, inventors, and entrepreneurs. But it's not just about technical skills – we embed lessons on mindset and interpersonal skills throughout our curriculum, because it's hard enough to make an extremely ambitious technical project using technical skills alone. You can't bring it to life unless you have a positive mindset and the ability to collaborate and get help from others.
We use technology as a medium to transform the way kids think about themselves, their capabilities and what they're able to contribute to the world. Today, more than ever, children are struggling with mental health issues. There's an abundance of technology out there. And it's a challenge to think about how to integrate it into their lives in a healthy and balanced way.
When we got started with MakerKids many years ago, the idea was to teach technical skills, and to help narrow that gap and that shortage of STEAM trained workers. But what started happening was that families started coming to us and telling us that they were using our programs as a form of high tech arts therapy, and that children's mental health professionals were referring kids to us because of the results that they'd seen.
Soft skills are so important.
Surveys have found that 80% of principals, parents and teachers that are surveyed said it's equally important to assess both academic and non academic skills. And 60% of employers also felt that a broad range of skills was important for future career success. Something we're really proud of is that we have many kids coming to our programs with various diagnoses, like being on the autism spectrum, ADHD, anxiety, and so forth. And families telling us the kids feel better during and after our programs.
Right now, there's a lot of different forms of modalities that exist to help boost social-emotional skills, like music therapy, art therapy, play therapy, and more. But we think there's room for a new type of modality that in today's day and age might be the most effective of all, and that's the idea of using technology for social-emotional benefits. Technology has been shown to be beneficial in many different ways.
The reason why technology and making can help kids is for a number of reasons.
First, making lets you be recognized for an area that people might not typically see as creative. When you think of creativity you might think of art, writing music, and those are what are seen as creative. But kids start to realize when they do STEAM projects, that they can be recognized for creativity in areas like coding and engineering.
The second is making allows you to express yourself through your creation, you can actually organize your thoughts, you can express to people what you're thinking inside your head. And you can think more about the world and your place in it. This is a maker mindset at play. Also, the act of creating is therapeutic in itself. And it makes people feel like they have power in the world. When you see an object in front of you that you created, or that's being used by others, that's powerful, you start to realize that you can change the world, starting by changing the lives of those in your community. And in terms of developing social skills, what we've noticed is that while kids' attention is really focused on a certain task like Minecraft, they might get distracted, and have their mental filter go down. And then they take more social risks, like talking to another kid or talking to an adult for the first time in a while. And then they carry those benefits and those social skills with them to other parts of their lives.
We've also seen a lot of great improved behavior (even if parents tell us to prepare for bad behaviour), as the kids are having so much fun. And we've heard that that transfers over to other parts of their lives, like school and home, and we also see a community that gets built when kids get to know each other through making. And we believe there's many mental health benefits that come from all of this. As an example, there are a couple of reasons why technology is great for students with ADHD. First of all, it gives students with ADHD, more rapid feedback when they're using technology, as well, they can modify the technology and the pace to control the rate at which they're stimulated. And finally, STEAM education is interactive, which is great for students with ADHD.
But it's not just about teaching the technology. It's about using it as a medium to nurture confidence, communication, resilience, and a positive relationship with technology.
So for example, when you look around you, you see lights, motors, and all sorts of elements of circuitry in robotics. Well imagine making a light that lights up using robotics, microcontroller, and then realizing that you're using similar technology to what lights up your house. Think of the confidence that that inspires. In Minecraft, kids are in a shared digital world, where they're sharing things like resources, space, and creativity. So there's lots of room for practicing communication. And coding involves a lot of trial and error. It's all about debugging, and learning to see what went wrong and try and fix it and try again, which inspires resilience. And with all computer based technology, there's an opportunity to help kids develop a positive relationship with technology, teaching kids about things like Internet safety and self regulation around technology, as well as how to be good digital citizens. It's all about helping kids move from passive consumers to active creators. Parents have reported improved confidence, social skills, friendships, creativity, marks, behaviour, and more.
We believe that technology can develop the creative potential of all kids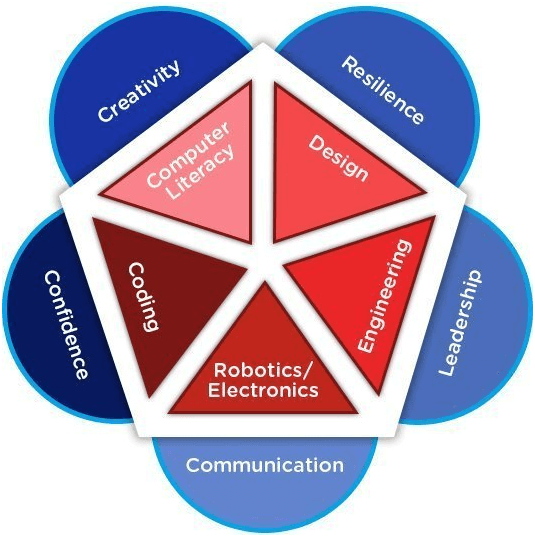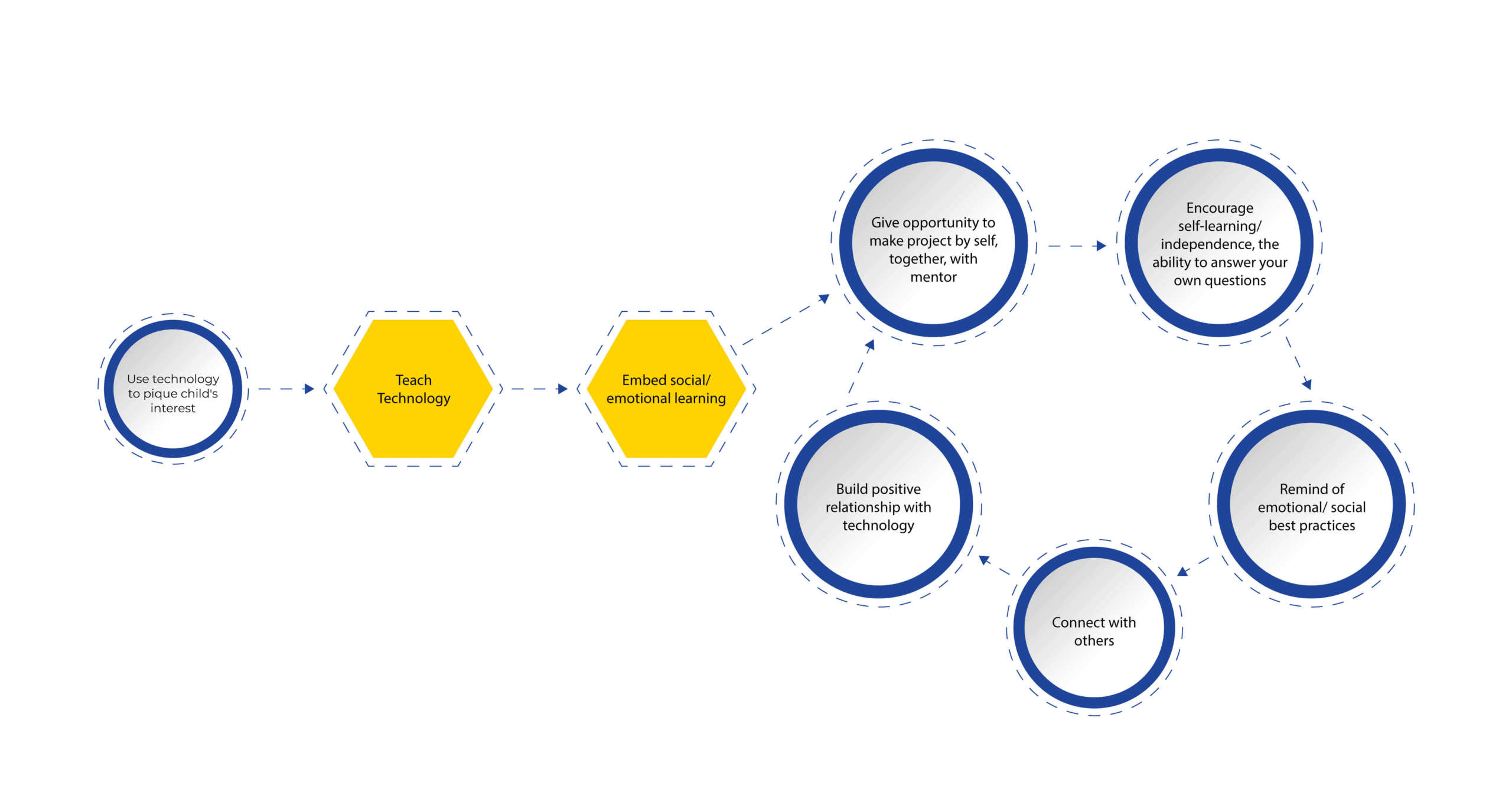 MakerKids is an organization that enables kids to build their ideas with technology. Our teaching approach is to inspire and empower kids to think, design, experiment and create. Our mentors are facilitators for the kids, act as an accessible role model, and also encourage them to seek out resources to learn on their own, and to teach each other. Interwoven with everything we do is our philosophy to honour kids' own creativity and trust their abilities. Kids who are confident in their own abilities are capable of learning and doing anything!
The skills to invent the future aren't taught in school