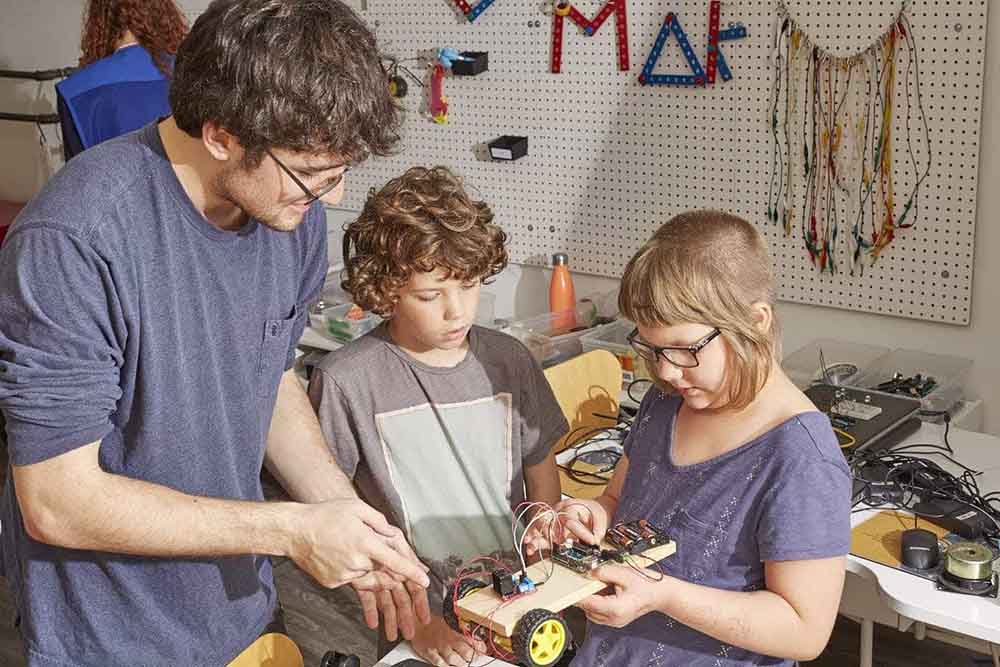 What We Do
MakerKids is a certified B Corp that develops maker learning programs for kids and educators, and runs one of the only makerspaces for kids in the world. We inspire kids to see their futures as inventors, entrepreneurs, and innovators. We provide amazing interest-driven STEM programs to help kids move from being consumers to creators. We run camps, programs and parties on robotics, coding and Minecraft.
MakerKids was named Best Kids' Workshops by Toronto Life Magazine and one of the top ten awesome birthday parties in Toronto by Today's Parent. Thousands of kids have participated in our programs. In the past, we have done Content and Curriculum Development for clients like Intel and 3D Systems, and Professional Development services for clients such as the Toronto Public Library. We've been featured in major media such as Wired, CTV and the Globe and Mail, and have spoken at SXSW, Maker Faire, MakerCon, and more. Our Board of Advisors includes Dale Dougherty (CEO of Maker Media, MAKE Magazine and Maker Faire) and Massimo Banzi (CEO of Arduino). We are proud to be a Certified B Corporation, which recognizes our commitment to social impact.
We are a mission-driven company and our mission is to help people reach their potential and make a positive impact on the world. We are leading programs that improve kids' lives significantly, enabling to see their own power and realize that they can make a difference.
Our team is growing and we're looking for rockstars who believe in our mission. Join us!
Who We Are
We're a group of makers, inventors and entrepreneurs with backgrounds from Singularity University (at NASA), Procter & Gamble, musical theatre, and summer camps at City of Toronto, City of Burlington, Queen's University, and many more.
MakerKids' CEO, Jennifer Turliuk, coded a website when she was 12 that went viral and was featured in a magazine. Later, she was selected to participate in the Singularity University program at NASA. Jennifer started MakerKids so that more kids could have empowering experiences and become leaders. Graduates have gone on to start businesses, be featured on TV, be published in magazines, and more. She has been named a 'pioneering woman in tech' by Adafruit, awarded an Honorary Degree for her contributions to the community via MakerKids, keynoted industry conferences such as MakerCon, had her work published in Forbes, and more.
You'll love working here if you:
Want to have a positive impact on kids
Want to share your love for technology and making
Dig a relaxed, casual, and fun work environment (warning: musical theatre nerds among us)
Did we mention having fun at work? We like doing stuff together – improv classes, escape rooms, and other staff socials
And we also take our work seriously, create space for each other's opinions and perspectives, and pursuing success together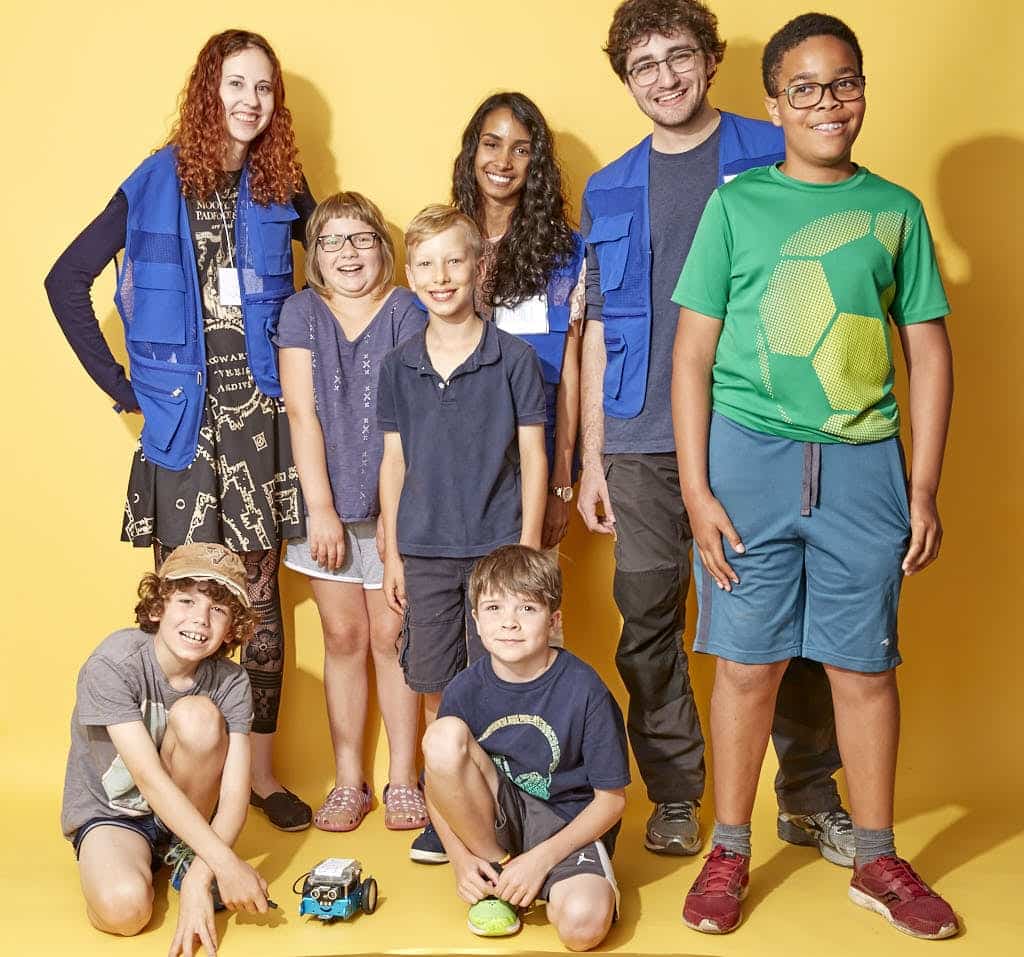 Sweet Headquarters
Our bright, colourful, dog-friendly Makerspace office is located at 2451 Bloor Street West, minutes to downtown, and steps from Jane TTC station and a vibrant Toronto neighbourhood. We offer flexible working hours, the ability to work from home, and more.
Cool Gadgets
Arduinos and robotic supplies
Laptops galore
Minecraft accounts
New technologies and toys we're experimenting with (companies send them to us to test out!)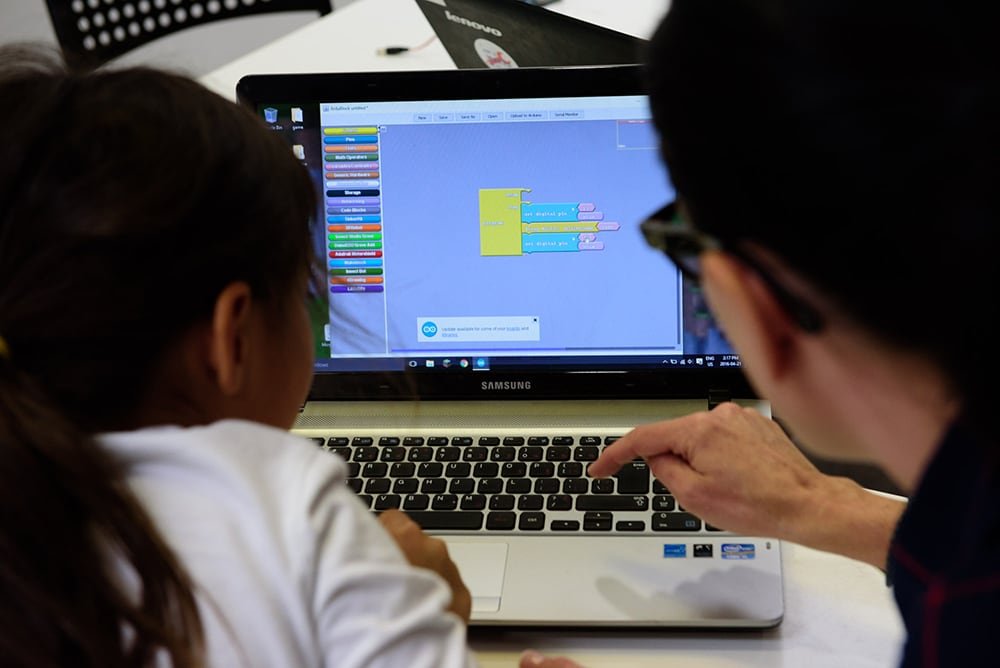 Learn
You'll love working here if you love to learn. We have extensive training and paid professional development opportunities. This is a chance to grow an immense amount in your career.
Play
We are all about play and having fun. Join us at karaoke nights, board games, yoga, musical sing-alongs, and playing fun games with the kids.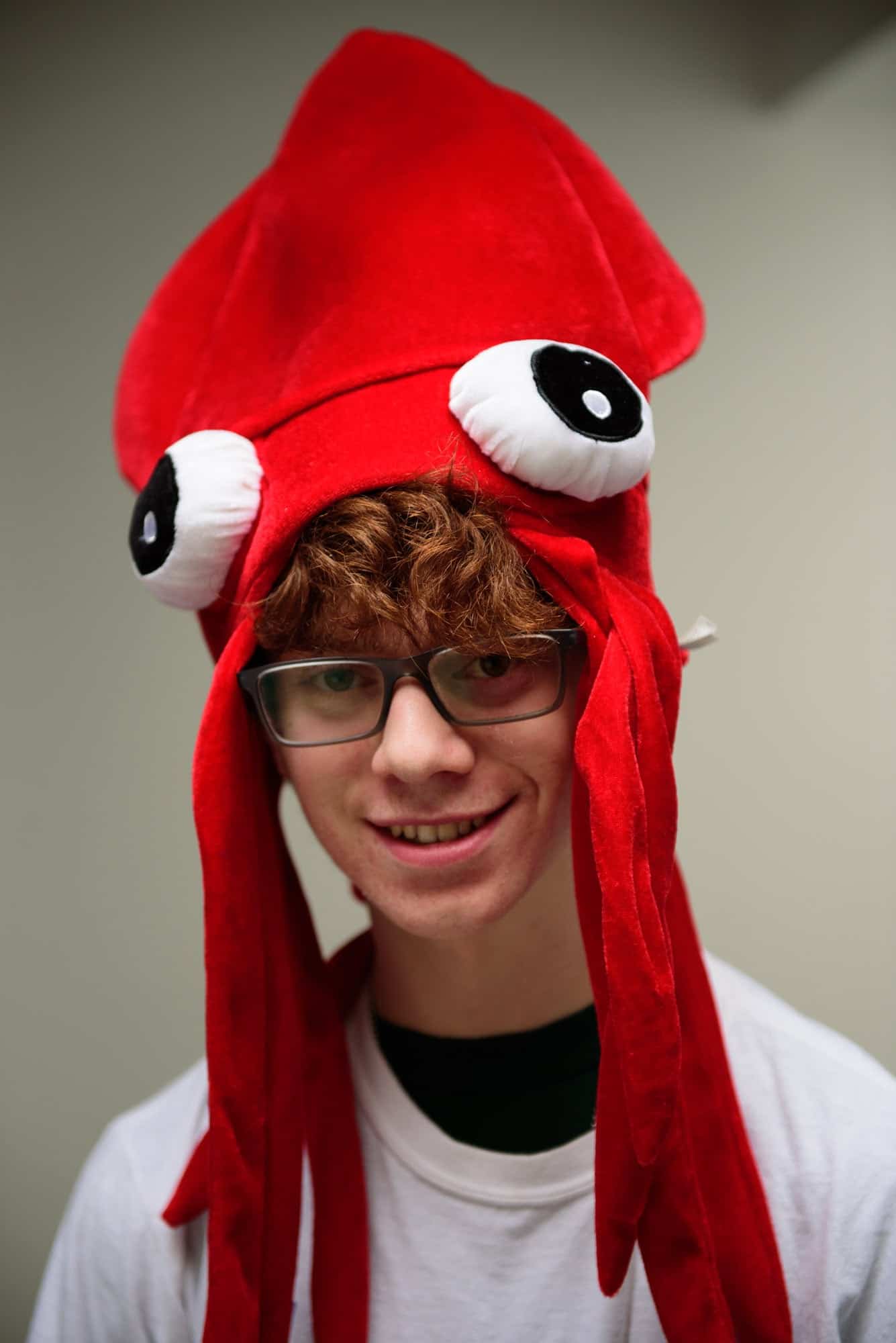 Make an Impact
This is Serena. She joined our Robotics program and a few weeks later she made her own electronic hat project that was published in OWL magazine. Alex, a 10-year-old in our program, started a business making and selling audio speakers. Imagine what these kids will be able to do when they grow up! Steve Jobs, the founders of Google and other luminaries were part of technology programs from a young age. Join MakerKids to help change the world.
Together at MakerKids
It takes a team to build something great. Together we work hard, laugh hard, learn, play, and make.
For me, working at MakerKids was much more than a job. It offered an unmatched opportunity to be at the forefront of a movement that is revolutionizing how we approach education. At MakerKids, I worked in unison with industry leaders, educators, and parents to create impactful change not only within the organization, but in the lives of children and youth. I credit my time at MakerKids with giving me the opportunity, confidence, skill set and ethic that is unrivalled by any organization.
Cole MacDonald
MakerKids encourages the personal growth of its employees, and is a very nurturing and supportive environment. We all help each other, it feels more like we're good friends than just colleagues.
The chance to make a difference in children's lives – and to be that mentor that pushes them to give it another try instead of giving up – is so inspiring. MakerKids has taught me a lot about self-acceptance and not being afraid of failure.
It's exciting to have a workplace I can feel proud about, and I find myself smiling as I tell others what we do. I am so glad to have found a place I belong. Thank you, MakerKids
Instructor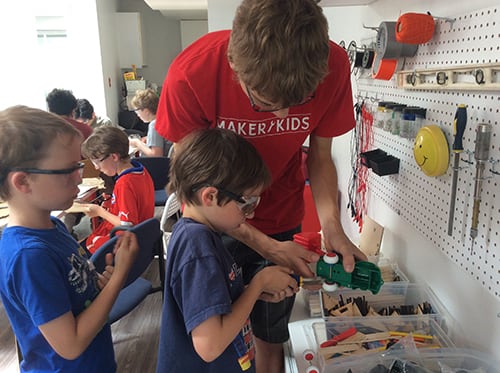 Make Anything Possible
MakerKids fosters the skills and mindsets for kids to realize their potential and make anything possible for themselves! Soft skills: A) confidence, B) social skills, and C) engagement. Technical skills: A) coding, B) design, and C) electronics. As a company, we are making anything possible: we've grown exponentially and provide great opportunities for team members to develop and grow.
Make New Friends
Kids, parents and staff make new friends, and together we make a community. We help kids develop social skills and meet each other.
Make Things Happen
We have a bias towards action. As a team we get things done, and in classes we help kids to move beyond analysis to the prototyping phase and to take action in their lives.
Make The World A Better Place
We focus on (and encourage kids to focus on): social impact, helping others, making projects that help the world, and acting with integrity and safety. This is more than just a job for our staff – we care about the families that come to MakerKids and acting as positive role models for kids, providing great service to customers, and creating more leaders who can make the world a better place.
Make Something Awesome
We're focused on making awesome experiences, making a great company, and helping kids make awesome projects: video games, motion-activated cat alarms, and more.
Feel Good About Where You Work
MakerKids Inc became a Certified B Corporation in 2015. B Corps are a new type of company that uses the power of business to solve social and environmental problems. B Corp certification is to business what Fair Trade certification is to coffee or USDA Organic certification is to milk.
MakerKids Inc was certified by the non-profit B Lab to meet rigorous standards of social and environmental performance, accountability, and transparency. We've evaluated how our practices impact our employees, our community, the environment, and our customers.
Today, there are over 1,300 Certified B Corps around the globe, including Etsy, Patagonia, and Ben and Jerry's. We are proud to join them in redefining success in business, so that one day everyone uses business as a force for good. To learn more about our certification, check out our B Corp profile.