When you think about your kids taking part in coding projects, you may only think about creations on a screen. But, did you ever think they could be used as part of your Halloween festivities, even as a part of a costume? Well, they can! That's the awesome (well, one of the many awesome) things about Arduino and Microbit. Many of our students work with Arduinos and Microbits in our MakerKids classes, so seeing some cool applications like these really makes what they're learning come to life.
We're going to show you some ideas we discovered and share them with you so your kids can have some fun this Halloween.
Arduino Halloween Ideas
Talking Skeleton
A talking skeleton is the perfect idea to greet your guests this Halloween. Have your child make their own version with a variety of your pre-recorded phrases. A PIR sensor works to detect movement. Use a Wave Shield from Adafruit stores .wav files to output a pair of hidden compute speakers. A simple servo motor is used to move the hinged jaw. Add some bright LEDs in the eye sockets to finish off the project.
Automatic Candy Dispenser
If you don't want to give out candy in person, why not have an automatic candy dispenser do the work? The dispenser uses two servos to both open the chute and mix the goodies to prevent any blockages. It's a winning device that is fun to use and watch in motion!
Microbit Halloween Ideas
Halloween Fancy Dress
If you're tired of the same old Halloween costumes, it's time to get creative with microbits. You can make a BBC micro:bit-powered Halloween fancy dress. To make this happen, you'll need a Kitronik ZIP Halo for the BBC  micro:bit project and ZIP LEDs. Follow the easy tutorial here for a Halloween costume idea that's bound to win first place!
Iron Man Costume
Sure, you can go to the party store and buy an Iron Man Costume, but wouldn't it be more fun to make one using microbits?
You can make a Pi-ron Man mask and a replica of the Arc Reactor made with a BBC micro:bit. The mask features holographic information and is based on a Raspberry Pi Zero W. The BBC micro:bit Iron Man Arc Reactor helps to complete this costume. While you may need to use some 3D printing for this costume, it's all worth it in the end.
Halloween Fun and More at MakerKids
As you can see, there is plenty of fun to be had using the Arduino and Microbit skills that students learn during their MakerKids classes. If your child wants to learn these skills, contact us at MakerKids. If your child is already taking one of our classes, be sure they enter our Halloween costume contest. Have your child wear their costume now through Halloween and send us a picture of your child in their costume to [email protected].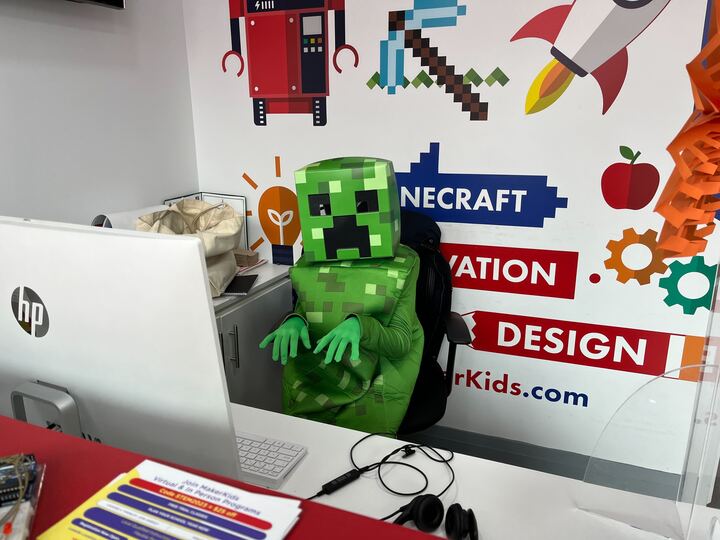 The lucky winner will receive a $100 gift card. It's the perfect prize to learn more fun and exciting coding skills. What are you waiting for? Don't be too scared to enter! Happy Halloween!